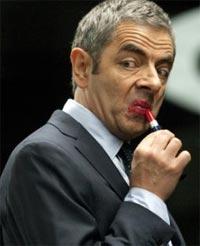 Preeti Arora writes that Johnny English Reborn just isn't funny. Post YOUR reviews here!

Johnny English has everything you'd find in a Bond film -- pricey cars, fancy gadgets, sharp suits and signature soundtrack. All except one thing, Johnny English is daft as hell.

Which is pretty much the point anyway, since the film is meant to be a spoof on spy flicks.

But, ideally, a spoof should be comical in one way or another whereas Johnny English barely sparks a smile among the audience.

2003's Johnny English, made with the obvious intent of parodying the Bond saga (to the extent that it was even written by two Bond writers themselves) was smart, slick, and slapstick gold. It made a lot of money and it made people laugh even more.
But that was back when humour-philes were still reeling from Rowan Atkinson's epic feat in Bean; the only different thing that Atkinson did (from Bean) in Johnny English was to carry a gun.
The sequel Johnny English Reborn, on the other hand, comes eight years too late, at a point when all the gags have gotten stale and no one remembers Johnny English all that much to care about him.

The film opens with English somehow being reinstated in Her Majesty's Secret Service, five years after being dismissed as a spy and having his knighthood retracted for causing the death of Mozambique's President. This time, English is burdened with the task of averting an assassination attempt on the Chinese Premier, which he does, but only after bumbling about on screen for a whole 100 minutes. It's all very boring by the end of it.

The story is inane and drags slowly from one convenient plot device to another. Atkinson, progressing from mindless gag number one to mindless gag number three thousand and six, fails at his usual brand of slapstick in spite of his immense screen presence. One can't blame him, and it's sad that Hamish McColl (Mr Bean's Holiday) wrote a screenplay as poor as the one we are served here. There are certainly those few gags that have the potential to tickle your funny bone, but only on a stand-alone basis. See them strung out one after the other on a reel, and they fail to work cohesively.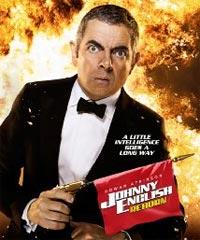 As for Atkinson's co-stars, they pull off a just-about-average job, bringing nothing exciting to the platter. The script fails to exploit the potential of even Gillian Anderson (The Last King of Scotland, The X-Files) in the role of Pegasus, Atkinson's boss. An interesting but failed twist is the introduction of Tucker, English's childish sidekick. It raises expectations of an overflow of humour, which doesn't happen.
Why Johnny English Reborn doesn't take off is probably because the humour is inherently confused. It floats tentatively between being an out-and-out farce, a subtle spoof and a serious spy adventure. There is a serious dearth of the irreverent mockery that it takes to subvert a franchise as popular as the James Bond series. It's not impossible, as we all saw with Mike Myer's Austin Powers.
Spoof films, in the technical sense of the word, have the licence to be as ridiculous and defiant as they like so long as they pack an exceeding amount of entertainment value. However, with Johnny English Reborn, audiences are left wishing that the makers had more clarity and confidence in what they were trying to do, other than cash in on an obvious marketing gimmick.
Advisedly, Atkinson should make another Bean movie rather than endeavour to resurrect such mediocrity as the Johnny English franchise. Strictly for Rowan Atkinson fans, willing to take a conscious risk.
Rediff Rating: