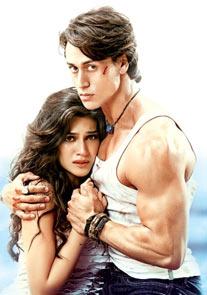 Heropanti is an amusing yet bland modification of the classic Dilwale Dulhaniya Le Jayenge, says Paloma Sharma.
"Sab ko aati nahi, meri jaati nahi," says Tiger Shroff time and again.
Now you might think that he's talking about pimples or loose motions, but its really heropanti that he has in mind.
What is this heropanti, one might ask; and if we were on KBC, this is what the answer would look like
Heropanti is:
1. The title of the film
2. The quality of being a reckless smart alec
3. A dialogue forcefully repeated throughout the film
4. All of the above
Not only does Heropanti borrow half its title from Shroff Sr's breakout film, it also has the signature tune from Hero (1983) playing in the background repeatedly.
Sabbir Khan's second directorial venture after the infamous Akshay-Kareena starrer Kambakkht Ishq (yes, you may cringe now), Heropanti is a remake of a Telugu film -- which is pretty obvious -- and follows in the footsteps of the original, Parugu.
Heropanti is set in what is referred to as "Jattland" in the film, and as news broadcasts will have informed you by now, love outside of caste/class and inside of gotra only results in death.
When Chaudharyji (Prakash Raj's) older daughter, Renu (Sandeepa Dhar) runs away with her lover, named Rakesh/Rajesh (since nobody could figure out what his name really is), he launches a manhunt to track them down and eliminate them.
Because izzat.
Chaudharyji's men round up Rakesh/Rajesh's friends on the suspicion that they would know where Renu is and one of the friends turns out to be (drumroll, please) Babloo (Tiger Shroff).
Yes, this Tiger's debut film.
And yes, his name really is Babloo in it.
I kid you not.
Babloo, on the other hand, does what every star son (and some aam sons) have the tendency to do in films -- fall in love at first sight with a pretty girl.
Soon enough he finds out that said girl is none other than Chaudharyji's younger daughter, Dimpy (Kriti Sanon).
Babloo must now use his superpowers (aka heropanti) to figure out a way to be with his true love without either offending her father or getting both their butts honour killed.
The suspense of it all is just too much for me.
Oh my, somebody hand me my smelling salts.
*Swoons*
Tiger Shroff isn't exactly a bad actor, per se.
It's just that he would have been so much more believable in an all-out action film with minimal dialogue, since, not only is he an amazing martial artist but he also seems most comfortable in that space.
Currently balancing between the Puru Raajkumar and the Uday Chopra schools of acting, Shroff Jr could also do well with wiping that ever-present smirk off his face.
It just makes some serious scenes really awkward.
Kriti Sanon, on her part, might be the next Aishwarya Rai Bachchan.
Sanon has garnered much acclaim for her good looks but as far as acting goes, her forte seems to be shedding tears, being vulnerable and all other emotions that go with being the damsel in distress.
For all the pseudo-feminist gyaan that Tiger Shroff gives during the film, Sanon's character keeps shuttling between father and lover without much motivation or even a thought process of her own.
Prakash Raj is back in his element, delivering on of the finest performances of his career. It was great to see Raj's usual bad guy act have some shades of grey this time around as he plays a man torn between the brutal traditions of his people and his undying love for his daughter.
Heropanti tries to deliver a highly confused sermon on love and freedom of choice, which ultimately comes down to much sasur-damaad (b)romance.
Babloo and Chaudharyji indulge in more heart-to-heart discussions and handholding than Babloo and Dimpy do.
Perhaps it was unitentional, naive writing but there comes a point towards the end of the film where you lean forward in your seat with your fists clenched tight, just waiting for them to kiss and get over with it.
Seriously.
You can't make these things up.
Heropanti follows the Bollywood formula and includes 5873 random songs which, if devoid of visualisation, are a good, time-pass listen.
Over all, Heropanti is an amusing yet bland modification of the classic Dilwale Dulhaniya Le Jayengey, featuring some of the most fake Haryanvi accents this North Indian has ever heard.
The film could do with more action and less drama. The most masala-less masala movie I've watched in a while, it will have you echoing the second most (over)used dialogue in the film,
"Kab jayegi teri heropanti?"
Rediff Rating: