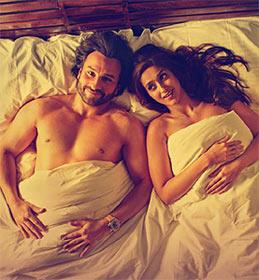 Happy Ending, at its core, is pretentious and does not quite live up to expectations, save for Govinda, who lights up the screen with his mere presence and those legendary moves, says Nishi Tiwari.
It's the season of many a crash and burn at the movies.
A week after the colossal disappointment that was Shaad Ali's Kill Dil, director duo Krishna DK and Raj Nidimoru's Happy Ending -- another eagerly awaited film of the year -- hits the marquee this Friday.
It is slightly difficult to ascertain if the talented director duo -- who have given us such delightful gems as 99, Shor In The City and Go Goa Gone in the past -- were being ironic with their newest film's title because at the end of it, the film offers anything but a fitting closure.
Unfortunately, that is just the tip of the iceberg.
Happy Ending is a film saddled with unintended ironies and a misplaced sense of what makes its central characters cool, and relatable to its audience.
Saif Ali Khan plays Yudi, a Los Angeles based author, who struck gold with his debut novel and is living off royalties. A commitment phobic man-child, who is too full of himself in an obvious way, Yudi is, for reasons known only to the scriptwriters, irresistible to the women he dates.
He is trying to wriggle his way out of his relationship with his psychotic girlfriend Vishakha (Kalki Koechlin) when he meets another writer Aanchal Reddy (Ileana D'Cruz).
Aanchal also happens to be a bestselling author in Los Angeles (what are the odds of that happening?) and Yudi instantly falls for her because her view of modern day relationships is as skewed as his own.
Then there is the indomitable Govinda as the aging movie superstar, who has his sights on the multiplex audience and summons Yudi to write a 'romedy' that will be a 'blockbuster all over the world.'
Ranvir Shorey, ever the brilliant sidekick who is known to often overshadow the hero, is unfortunately handed the short end of the stick in this one as the boorish, unimaginatively written best friend of the hero -- a hen-pecked husband whose only aim in life is to live vicariously through his unattached friend's escapades.
To his credit though, Shorey manages to rise above the lazy writing and infuses obvious situations with admirable flair.
Let's address the many ironies this film is bursting at the seams with.
The protagonists -- both writers -- talk about everything else under the sun but their work. Heck, we don't even get to know what Yudi's oft mentioned book -- a rather pulp fiction-ily named Operation Payback -- was about.
When asked what she likes to read, Ileana's Aanchal curiously replies, 'I read everything... even the telephone directory!'
Her obvious ignorance is accentuated further by her severe dressing sense -- carefully coordinated accessories, primped hair at all times and just the right amount of makeup. You have to be the Amal Alamuddin of the literary world to look like that and still be taken seriously.
In the internet age, when social retards are oh-so-mainstream, the protagonists of Happy Ending, in their eagerness to flaunt their non-conformism, come across as mere caricatures of the characters they originally set out to portray.
But the mother of all ironies is Govinda's delishly grandiose and bashful middle-aged star actor, who notes that his nubile leading lady is too old for him, parodying not only himself but 43-year-old Saif too, whose love interests in the film are two 20-something actresses while his actual contemporary, Preity Zinta (who is closer to his age) plays an ex-flame with a husband and three kids.
While Saif is in familiar territory as Yudi, Ileana fails to lend depth to her character -- there is no plausible reason assigned to Anchal's worldview nor a closer peek into her state of mind. Her performance, in that sense, strikes as rather unremarkable.
Kalki manages to fare better in that regard, considering her character is just as deprived of context as Ileana's.
What also strikes as mildly disappointing -- because despite all these shortcomings, Happy Ending does offer a few genuine laughs -- is the fact that Raj and Krishna's original voice seems to have somewhat diluted to suit a larger canvas.
There are moments when the film strikes one as an earnest attempt at an urbane comedy (Saif has been consistently apologetic for the gross misstep that was Humshakals).
But Happy Ending, at its core, is pretentious and doesn't quite live up to expectations, save for Govinda, who lights up the screen with his mere presence and those legendary moves.
In a film that every cast member is so desperately trying to fit in, he is the only one who actually manages to convince us that he truly belongs there and he knows it.
Rediff Rating: