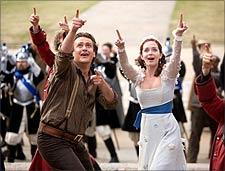 Deepak Warrier reviews Gulliver's Travels.
Post YOUR reviews here!
If 18th century writer Jonathan Swift had watched the silver screen adaptation of his satire Gulliver's Travels, it would not have come as a surprise if he walked out, shamelessly torn, and pathetically teary.Lemuel Gulliver (Jack Black, pitiful) has lots of unexpressed love for travel editor Darcy Silverman (Amanda Peet) of a New York daily. Desperate to woo her, mailroom employee Gulliver embarks on a travel writing assignment and very promptly sets out to the Bermuda Triangle.  
His vessel topples in a storm, gets wrecked and Gulliver goes into a total shut down. I wish the film ended right there. But of course, the proceedings have just started. 
Much like the original, Gulliver finds himself in a world of six-inch Lilliputians. But the logical similarity with the original ends there. 
Gulliver makes friends in Horatio (Jason Segel), who later becomes the only solace in the movie.  
Split between the love of King Theodore (Billy Connolly) and the enmity of General Edward (Chris O'Dowd), Gulliver soon finds himself settling down as a hero in the tiny world. He becomes a champion and people look up to him as the saviour of the territory. The self-exaggerated heroics of Gulliver, which later take him to a
do or die situation, forms the rest of the film.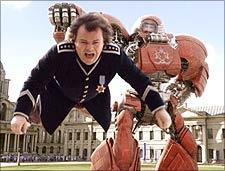 There are traces of comedy, love, adventure, fantasy and drama in the film.  
Segel moves away from his natural instincts to handle a sober romance with the princess (Emily Blunt) and does well too. While O'Dowd' tries to make us laugh through angry red faces and the flippy-trippy things he gets into, Connolly spreads love.  
The fun gets wrecked at times when the terribly miscast Jack Black enters the scene, making us almost wish that he didn't. Director Rob Letterman could have handled the actor more effectively to show the film's comic nature. 
The Lilliputian ambience sparks brilliance and the technical side fares well. But a better screenplay would have made the film a better watch. Even though it runs for about 95 minutes, the comedy falls so flat, it makes time stop. 
There would be two reasons to watch this movie: if you are a fan of Jack Black, who has given us entertainers like Kung Fu Panda, King Kong and The School of Rock. Or, if you wanted to follow the screen adaptation of a historically significant fable, Gulliver's Travels. I would suggest either watching another Jack Black starrer, or just read the book. 
Do not be a part of this travel. You might just quit midway. 
Rediff Rating: