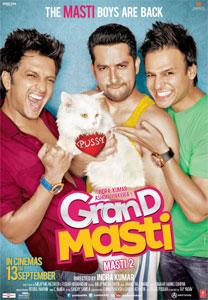 Abhishek Mande feels there is no way you can enjoy a movie like Grand Masti and still claim you respect women.

After delivering films such as Dil and Beta in the early '90s and a string of flops thereafter, director Indra Kumar decided that he'd had enough of sloppy romance movies and began inflicting upon us films such as Dhamaal, its sequel Double Dhamaal and Masti among others.

Somewhere along the way, he also seemed to have successfully sold the idea to Ashok Thakeria, the producer of Masti that it might not be such a bad idea after all to co-produce another film starring the three protagonists of their 2004 flick.

And so we have Amar, Meet and Prem (Ritesh Deshmukh, Vivek Oberoi and Aftab Shivdasani) returning to the screen with their antics.

Like most Indian men, our three heroes are horribly sex starved because their wives must take care of their husband's family or feed the baby or wear the pants around the house. (Yes! There is indeed a career woman in this film and of course the way her husband's turned out is all. her. fault.)

It has been six years since they graduated from college -- because only in Bollywood can you pass off 30-somethings as college students -- and settled unhappily into their domestic routine when a reunion presents them with an opportunity to relive their carefree days and the possibility of getting laid.

Thus, while their wives go about playing out the roles they must at home, the three men go around seeking sex on the campus with three women suggestively named Rose, Mary and Marlow. (I am going to let you say those names out loud once just so you know where this is heading).
As it turns out the three ladies aren't just related to each other but also to the nemesis of our three philanderers.

What follows is a series of improbably ridiculous situations, obnoxious song sequences, cringe-worthy lines and performances that are so bad that Vivek Oberoi's newly-acquired paunch seems to emote better than all the actors put together.

The women -- all of them, including the junior actors and the extras -- seem like they're straight out of some male fantasy as they traipse around in little or no clothes and at one point strip down even further in the name of saving the men.

Grand Masti features little else besides heaving bosoms, tight shots of women in hotpants (or less) and sexual innuendoes that make crass seem too sophisticated a word to describe them.

I do wish I had something, anything good to say about the film but I'm afraid there is nothing. There were parts that made me cringe so much that I couldn't bear to look at the screen. The male chauvinist worldview that Grand Masti perpetuates -- that all women are available; men are sex starved because they don't get any from their wives; the wife who is more successful than her man has to be a horrible one etc -- is exactly the kind that women in India are victims of.

It is disturbing that a film of this nature should have a budget of a few crores, get such a wide release and receive so much publicity.

That these young actresses must play out such demeaning roles to make their presence felt in the industry is sadder still. Though, why the actors, who seem fairly well-to-do in life should take up these film offers is a mystery.

But the real tragedy would be if this film works at box office because that won't just set off a trend of similar movies but, more importantly, reveal something rather dark about our own hearts and minds.

I am going with zero out of five stars for Grand Masti because there is no way you can enjoy this movie and still claim you respect women.

Rediff Rating: ZERO stars