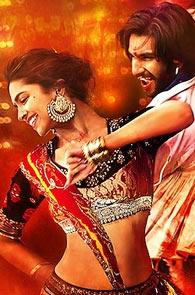 According to Raja Sen, Goliyon Ki Rasleela Ram-Leela is an overplotted, bloody mess.

Begone, pretenders.

Why must Bollywood try to claw vainly at the works of The Bard?

Or, to be fair, why must directors overreach as they aim for instant literary endorsement?

In the last year and a half, three directors (who have previously made one good film each) have tried to tell the classic tale of Romeo And Juliet and fatally floundered, creating painful works worthy of great embarrassment.

Habib Faisal made the terrific Do Dooni Chaar and then gave us link to review the disgusting Ishaqzaade; Manish Tiwary made the interesting Dil Dosti Etc and then gave us the unwatchable Issaq; and finally Sanjay Leela Bhansali, who once made the impressive Khamoshi, has turned up a movie with a title almost as grotesque as its contents.

May the brilliant Bhardwaj sic his bloodhounds upon you, foul fakers.

Goliyon Ki Rasleela Ram-Leela -- an acronym of which unfailingly reminds me of Greater Kailash Residential associations -- is a monstrously excessive film with a riot of colours, a girl who looks very pretty indeed and a daft hero, but despite that being the warning on the tin whenever you attempt (foolhardily) to buy into a Bhansali product, this can't be what you bargained for. GKRR is an overplotted, bloody mess.

Ranveer Singh, he of that dandruff song, plays Ram, and he does so head and shoulders more effeminately than you've seen any Hindi film hero.

He throws in the dhak-dhak dance step, for example, and later appears oiled up and wearing a dhoti tied lower than Shilpa Shetty would a sari.

He also speaks like a character written for Satish Kaushik in a David Dhawan movie, all poor puns and weird vocal tics and very lame dialogue. Singh pushes himself but the part is too imbecilic, and he only does well when falling down and looking up at the camera -- simply because it reminds us of his lovely Lootera.

Deepika Padukone plays his gal, Leela, a cleavage-thrusting princess who looks absolutely luminous but can't
quite handle the sheer, relentless raunch the part demands.
She sells some of the dialogue impressively, but stumbles over the
tu-tadaak
overfamiliarity thrust onto her by the script, and performs the way SLB likes his ladies to: when she's happy, she's too happy; horny, too horny; sad, too pouty.
She looks like a million bucks, however, and so resplendent is Padukone with screen presence that it feels like watching Angelina Jolie in a bad film -- ie, it's all pointless, but there is something worth staring at. Her hero might carry a water pistol, but this Leela packs the guns.
Speaking of which,
GKRR
marks Sanjay Leela Bhansali's discovery of arms and ammunition, one that leads to his attempting dialogue more suited to Anurag Kashyap: the result is very poor indeed, awful rhymes alternated with soap-operatic exposition.
Performers like Supriya Pathak and Gulshan Devaiah are reduced to cardboard caricatures and hamming, and the ever-effective Richa Chaddha isn't given elbow room.
Somewhere in Rajasthan, there are a pair of warring families, and while even a typical Sarpunch-and-Judy show can be a blast despite the cliches surrounding it, this one plays out like a bad street-play with an unjustly fantastic budget.
The frames look luscious, the palette is eyewateringly vivid, and cinematographer Ravi Varman clearly has more of a blast than any audience member ever can.
Meanwhile the director, who has also written the film, keeps adding twists to thicken the plot and ends up with a loopy bloodbath that -- in the end -- serves no purpose whatsoever.
Save perhaps to warn us that SLB can be quite a sadist when he wants to.
Even the songs fall disappointingly short of memorable, and each of them sound like such a rehash of Bhansali's own hits that it's a wonder he -- instead of turning composer here -- didn't simply license rights to his own glorious soundtracks of yore.
At one point in this silly, wasteful, loud film with many a shifting accent, Ranveer Singh's Ram, a leading man addicted to selfies, takes a picture of himself and Deepika's Leela, proclaiming that it be announced immediately across Twitter (!) that Ram-Leela are now one.
Go ahead, then, make his day: tweet this film's score.
Rediff Rating: