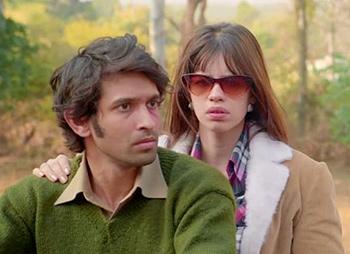 A Death in the Gunj is not a happy film at all times, but it is very entertaining -- not in a loud way, but in the sense that watching it is a very satisfying experience, notes Aseem Chhabra.
Christmas holidays in 1979.
A group of young individuals drive in a light blue Ambassador from Calcutta to McCluskieganj in Bihar.
There is Nandu, a 30-something-year-old man, his wife Bonnie, their young daughter Tani, and a friend Mimi, who perhaps has a European heritage.
Oh and also seated in the passenger seat is Shutu, Nandu's younger cousin. Their mothers are sisters.
There is a reason I mention Shutu last, because as it often happens in some families and among circles of friends, Shutu is the quiet one, usually seated at the back in the living room, an afterthought, butt of many jokes, mocked and bullied by louder members of the group.
The Shutus we know are left to mind children and they feel comfortable since kids tend to be less complicated, while the other adults party, drink, dance, flirt and play games.
In A Death in the Gunj, first-time writer-director Konkana Sensharma, working on a short story written by her father Mukul Sharma, has created one of the most compelling, unique, wonderfully fleshed out and recognisable character -- Shutu.
As played by Vikrant Massey (Lotera, Dil Dhadakne Do), Shutu is shy, awkward, quiet and always in the background, and yet we notice him, are moved by his pain and sense his desires.
Massey's Shutu is one the saddest and yet beautiful characters in Indian cinema in recent years.
There is a little bit of Shutu in all of us.
Each time we were bullied in school or later by a boss, yelled at, rebuked, criticised by a parent or an elderly relative we became Shutu.
It is to Sensharma's credit that she gives so much warmth and empathy to a character, who in many ways is a loser.
She makes him a hero despite all his flaws and shortcomings -- a rare act in Indian cinema, especially the popular films where only the winners are celebrated.
Sensharma obviously cares deeply for the weak amongst us.
But that is the charm of A Death in the Gunj.
Its large ensemble cast is full of real, believable people. And even though the film is set almost four decades ago, we know each and every one of the film's characters.
In addition to Nandu (Gulshan Devaiah), Bonnie (the luminous Tillotama Shome, who I will always remember as Alice in Monsoon Wedding), and Mimi (a seductive and moody Kalki Koechlin), the film stars Ranvir Shorey as Vikram, the bully amongst the lot and Jim Sarbh as Brian.
Both Vikram and Brian live in McCluskieganj and are an integral part of the narrative.
And Nandu's parents are played with great panache and flair by the late Om Puri and Tanuja, who is one of the biggest surprises in the film.
As Anupama Bakshi, Tanuja is a grand old Bengali lady, with upper class snobbery (she is always complaining about the hired help), but with a heart. She cares for Shutu even when she knows his shortcomings and his big secret.
I really wish Indian filmmakers would give Tanuja more work. Her talent matches her beauty and she has aged so gracefully.
Oh what a joy it is to spend a week with these actors within a span of about two hours. Despite the number of actors, the script gives every character room to grow and to speak to us even when we do not like them or are not supportive of their actions and motives.
Sensharma's writing and the cast are ably supported by the camerawork of Sirsha Ray who lovingly captures the mood, pacing, light and colors of winter in McCluskieganj.
And then there is Sagar Desai's soundtrack -- quiet, evocative and lyrical compositions. I especially loved the moment towards the beginning when Shutu puts on a sweater that belongs to his father and then in the climax scene.
In both those scenes Desai plays a regular flute that sounds more like a pan flute bringing an emotional mood that I associate with Ennio Morricone's work in Once Upon A Time In America.
A Death in the Gunj is not a happy film at all times, but it is very entertaining -- not in a loud way, but in the sense that watching it is a very satisfying experience.
It is deeply engaging and like comfort food its memory and taste will stay with the viewers long after the credits role.
Rediff Rating: