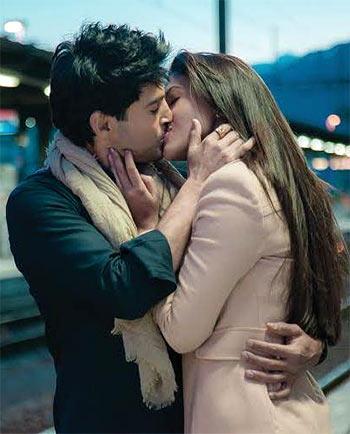 Fever may be a thriller but it does not have any edge-of-the-seat moments, feels Tista Sengupta.
If you are Rajeev Khandelwal fan, go watch him like a Bond-like character in Fever.
But if you like thrillers, this one will not impress you at all.
Fever does not have any edge-of-the-seat moments. Instead, you wonder why so many characters are wasted.
The intimate scenes seen in the trailer might get the movie an opening, but it will hardly bring in the audiences. Besides, those scenes look too forced.
Casino Royale's Bond girl Caterina Murino's presence was limited and English actor Gemma Atkinson looked very artificial in the film.
The story revolves around Armin Salem (Khandelwal), who's recovering in the hospital after a car accident and suffering from memory loss. All he can recall is his name, that he is from Paris, that there is a woman named Rhea Wagner (Gemma Atkinson), who is important in his life and a few strange memory flashes of a murdered woman.
It turns out that Armin was a contract killer and had a fetish for costumes and scarves. He's not only quick with his gun but also smooth with women.
It seems lame that director Rajeev Jhaveri keeps trying to portray Armin as an assassin in the film.
While Armin tries to put together his past, he meets Kaavya Chaudhary (Gauhar Khan), who plays a role that is quite mystifying. Even though she falls in love with him and wants to help him remember his past, her frequent appearances make us wonder why she's skulking around Armin all the time.
Our desi writers really need to work hard on their scripts. The story here seems too convoluted.
Unlike other thrillers, this one battles between reality and fiction, and makes the plot unappealing.
Rediff Rating: