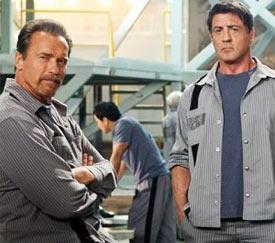 According to Paloma Sharma, you'll love Escape Plan if you're a fan of the Terminator and Rambo series of films.

Swedish filmmaker Mikael Hafstrom's Escape Plan promises the viewer three things -- one man, one prison and no way out.

Ray Breslin (Sylvestor Stallone) is a man with a unique job.

As co-owner of Breslin-Clark -- a private security firm -- Breslin's work entails going undercover as a convict in a prison where not even the warden knows his true identity and breaking out of there in order to test their maximum security facilities.

Ray's track record is undisputed until one day a federal agent comes knocking on Breslin-Clark's door.

Not soon after that, Breslin wakes up in a prison cell made of glass.

The prison boasts of all the security measures he has described in a book he wrote about how prison security is compromised.

Having unwittingly helped build his own cage, Ray Breslin realises that tables have turned in the game he's played for so long and that he is no longer the man with a plan. He is just another prisoner.

Needless to say, Escape Plan is for action flick fans.

With two action legends -- Stallone and Arnold Schwarzenegger -- sharing screen space, one couldn't have asked for much else -- except for, maybe, a few tweaks here and there in the script as well as direction so that they do justice to the lead stars' performances.

The chemistry between the two is crackling. The witty exchanges carried out with deadpan faces provide the much-needed
comic relief in some of the most tense scenes.
The most amusing part of this film is that despite having both Stallone and Schazernagger in it, there are not too many high-powered action scenes and whatever action is there, is mostly orchestrated with firearms instead of hand-to-hand combat.
While Schwarzenegger appears only after the first 20 minutes of this 115-minute film, the role he plays is pivotal as Rottmayer, Breslin's cellmate.
Rottmayer is the catalyst that brings Breslin to a crossroad -- he must either betray Rottmayer's secret to the sadistic Warden Hobbs to win his freedom or stay caged in the prison forever.
Escape Plan
's concept is an interesting one.
However, the first half of the film could be a tad predictable for some. Stock characters, bordering on stereotypical, are scattered across the film -- the cruel warden, his ruthless psychopath of a man Friday and the reformed thug.
Since the film explores themes like hope, freedom and the darker side of humanity, the camera work could have conveyed it better.
However, despite all of that, if you do decide to stick around for the second half of the film, as I did, you will be amply rewarded.
The best and perhaps the most unappreciated part of the film was the background music -- which was present yet unnoticeable -- as it should be.
Escape Plan
is a two-man show. If you've loved the
Terminator
and
Rambo
series, you will love this.
If you didn't, it's an entertaining yet forgettable ride.
Rediff Rating: