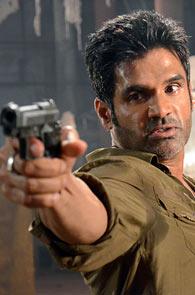 Enemmy is saddled with inane scenes, acting and story, writes Sonil Dedhia.

There is hardly anything revelatory in Mithun Chakraborty, Suniel Shetty, Kay Kay Menon and Mahaakshay Chakraborty starrer crime thriller Enemmy.

The film's tagline -- Law and Disorder -- reflects in the way things unfold on the screen. There's no method to the madness that has gone into packaging this old wine in a new bottle.

Director Ashu Trikha sticks to the formulaic -- the ugly nexus of underworld dons and corrupt cops, political leaders aid them.

Suniel Shetty plays CID officer Eklavya Karmarka, head of the four-member team assigned the task to clean up the muck caused by gang wars in Mumbai. Kay Kay Menon is Naeem Shaikh, a no-nonsense cop and Eklavya's trusted subordinate.

Mahaakshay Chakraborty, whose doomed acxting career the film is meant to revive, is Madhav Sinha, a young recruit in the team.

Father Mithun Chakraborty plays a senior CBI officerYugantar Sharma who funnily has a sixth sense with which he can actually recreate the entire crime scene in his mind.

Zakir Hussian, as the hot headed don Mukhtar Menon, spends most of his screen time in jail as the only prisoner who's provided with all creature comforts during his incarceration.

The actor, who showcased immense talent in films like Ek Hasina Thi, Sarkar and Johnny Gaddar,
is reduced here to a howling caricature.
The main twist of the film unravels right before the interval and is followed by a series of chaotic events coupled with high decibel dialogues. Needless to say, nothing makes sense here.
However, despite all the cliches, there are a few unique things to be noted about
Enemmy
:
*
Mithun Chakraborty shares screen space with son Mahaakshay for the first time (Although said scenes seem forced)
*It is Suneil Shetty's first release in the last two years (His last release was 2011's
Loot
)
*Comic actor Johnny Lever appears in his first serious role with
Enemmy
*You see a fine actor like Kay Kay Menon ham for the first time.
While the action sequences need more finesse but are, to some extent, enjoyable,
Enemmy
is saddled with scenes that seem out of place. With a runtime of a little over two hours, it seems tedious and boring.
The lesser said about Mahaakshay Chakraborty's disappointing turn, the better.
It is only Mithun Chakraborty and Suniel Shetty who approach the film with some earnestness.
Stay away from this
Enemmy.
Rediff Rating: