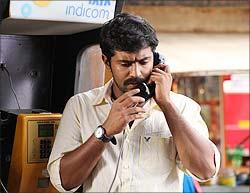 Paresh C Palicha says Chapters is promising.

First-time director Sunil Ibrabim's Malayalam film Chapters, is narrated, as the title hints, in text book format. Every new link to the story is presented as a new chapter with the first line of that chapter appearing on the screen below the painting of the characters (as in a storyboard).
The prologue talks about four friends, who are unemployed and in need of quick money.
In the first chapter, we see them thinking of schemes to make it big and by the end of the chapter, almost pulling it off.
In the second chapter another group of youngsters is heading for a picnic to a hill station. Two of them have eloped and the group has planned a registered marriage for the couple the next day. When they return to their car after the picnic, they find a dead body in it. The group disperses in panic.
The third story is about a long bus journey where a middle-aged man and an old lady start talking. Because the man
is carrying a huge sum of money for his child's treatment, he is nervous and suspicious of his fellow passengers.
The second half explains how these stories are interlinked.
The director succeeds in creating vivid characters (around 20 of them) and giving them believable motives for their actions so that they remain vivid in our memory. Like Navin Pauly and gang of the first chapter and Vieneeth Kumar and his friends in the second one (especially Shine who is presented as a goon on hire with a comic disposition).
Sreenivasan and KPAC Lalitha hold the third chapter together even though their portion lacks the genuineness of the earlier two. One question that rankles is why the director does not explore the darker shade of the grey in the characters. Everyone turns out to be good and positive in the end, unlike in the films they resemble, the
Portuguese City of God
(2002) and the Oscar winner
Crash
(2004).
All said and done, Chapters shows promise.
Rediff Rating: