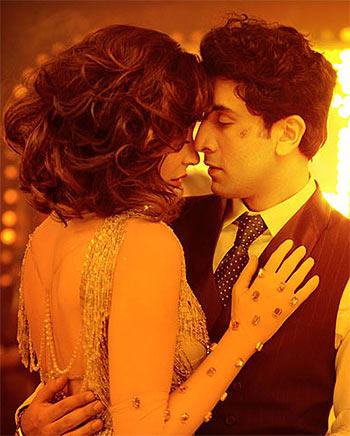 Bombay Velvet spends too much time on period details and loses focus, notes Aseem Chhabra.
Towards the middle of Anurag Kashyap's Bombay Velvet, Anushka Sharma's Rosie Noronha stands on stage belting out the film's finest song -- Dhadaam Dhadaam in Neeti Mohan's voice.

Rosie is performing in a beautifully designed large jazz club, also called Bombay Velvet.

Three grand chandeliers hang from the ceiling. Every table, every corner of the room is lit up to highlight the club's Art Deco design.
It is a spectacular moment in the film -- handsomely shot and lit by Kashyap's regular cinematographer Rajeev Ravi, and with some of the best production and art design I have seen in a Hindi language film in the recent years.

Much of Bombay Velvet is just that -- stunning to look at with fine details to capture the period.
We can see and taste the Rs 80 crore spent on the making of Bombay Velvet.

And it is evident that a lot of intelligent thinking and talent went behind giving the film the mood and the feel of the time, the jazz era of Bombay, populated with conniving journalists, corrupt politicians and police, the musicians, the dancers.
But in a film of a scale as grand as this, Kashyap and his other writers (the film credits four scriptwriters) lose one essential element -- the characters and their motivations.

Despite the talents, good looks and screen presence of the likes of Ranbir Kapoor and Sharma, we mostly do not care for their characters.

There is very little emotional connection they make with the audience, and even in their most difficult moments, they seem to be overshadowed by the scale of the production.
Indian films rarely spend time focusing on period details.

Bombay Velvet does too much of that and so it loses it focus.

The film's writers seem to forget that there has to be a creative balance between the time, the period, the context of the narrative and the characters that reside in it.
This is not the first time that Kashyap has worked on a film of this scale.

The two-part epic Gangs of Wasseypur was packed with many rich characters, but each was so well etched.

They spoke delicious memorable dialogues and we cared for them, even when they were vile, violent and vicious.

Despite the guns and violence, Gangs had its clever moments of humor. It was all in the writing.
Somehow that narrative form of storytelling is lost in Bombay Velvet.

Part of it has to do with the fact that the film (the idea of the plot emerged from the research work of Princeton University historian Gyan Prakash) at times attempts to be a history lesson.
There may be people out there who are interested in the discussions about how much of Mumbai's land was reclaimed from the sea, where Nariman Point stands and whether the city's World Trade Center would be built at Cuffe Parade or elsewhere.

But for people who have little or no connection with Mumbai, these issues may seem inconsequential and rather boring.
If one wants to know about the history of Mumbai, one can pick up a copy of Prakash's excellently researched book Mumbai Fables -- the source material for Bombay Velvet.

There are other important works about Mumbai -- from journalist Naresh Fernandes' Taj Mahal Foxtrot to Suketu Mehta's reportage of the more recent times -- Maximum City.
At times Bombay Velvet's script appears to be a color-by-number game of homage-after-homage to great works of cinema -- from the opening moments of Bob Fosse's Cabaret to Baz Luhrmann's Moulin Rouge and a lot of touches of Martin Scorsese, including Goodfellas, Casino.

In between there are nods to Francis Ford Coppola's The Godfather saga (especially a crucial scene from Part II) and even Brian De Palma's Scarface.

After a while I could hear myself saying 'Okay I get it, but surprise me with Bombay Velvet.'
If there is one surprise in Bombay Velvet it is the acting turn of filmmaker Karan Johar.

Johar has appeared on screen before and was actually introduced by Aditya Chopra in Dilwale Dulhaniya Le Jayenge.

So perhaps Bombay Velvet's opening credit should have stated "reintroducing Karan Johar" (instead of "introducing"), but that's a minor issue.

Kashyap deserves credit for finding the actor in Johar.
In Bombay Velvet Johar plays the film's villainous editor Kaizad Khambatta with a sly wicked tone. It is a fun performance with the right energy.
Kapoor's Johhny Balraj's rags to riches story seems too familiar.

It's been played before in so many Bollywood films of the 1970s and the 80s. But still Kapoor is a seasoned actor and he tries very hard to depict his angst-ridden character.
Sharma looks lovely as mournful Rosie flapping her false eyelashes and grabbing the mike at the club.

She arrives at the club with a particular goal, but at some point she seemingly falls in love with Johnny, the front man for the scheming Kaizad.

But that love affair of Johnny and Rosie may seem real on the pages of Bombay Velvet's script. On screen, it is appears forced.
Amit Trivedi's jazz compositions, plus the background score are quite remarkable.

But like Bombay Velvet's production design and the look, its music also feels over-scored. It is good, but it is also too much.
Rediff Rating:



Image: Ranbir Kapoor and Anushka Sharma in Bombay Velvet

ALSO READ -- Review: Bombay Velvet is an epic misfire