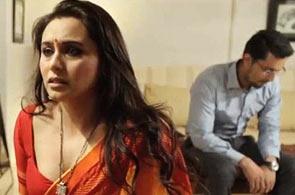 Bombay Talkies celebrates the language of cinema that permeated our system long ago, writes Sukanya Verma.

Hindi cinema is too voluminous a medium, and now a century old, to try encapsulating its glory in 25 quick minutes.

At the same time, the broad appeal of silver screen and its gift to forge unique association with every single member of the audience is much widespread to ignore.


And that's the idea behind Bombay Talkies, a cinema anthology, directed by Karan Johar, Dibakar Banerjee, Zoya Akhtar and Anurag Kashyap.

It's not a comprehensive probe into the nearly-religious fervour for the movies or the innermost workings of showbiz. Instead what play out are four individualistic, intimate tributes by contemporary directors with a distinct approach to filmmaking.

If Johar is known for glaze, Akhtar brings perspective; Banerjee's narrative breaks new grounds whereas Kashyap scores in nuanced writing. Their skill sets vary.

To be willingly adjudged for their combined creativity, fully aware comparisons lie ahead, regardless of the fact that all four films are completely dissimilar in content, tone and texture reflects inspiring maturity, faith in one's self and a sense of, well, sportsmanship.

Having said that, there's a refreshing consistency in the intellectual aesthetics of all four shorts, it's like a visual proof to the phrase 'on the same page' and it's not something frequent.

One could complain, where's the signature touch? But in collaboration, the closer they merge, the stronger they emerge.

It certainly holds true for Karan Johar who begins with his offering, Ajeeb Dastan Hai Yeh. It's not so much about moving away from one's comfort zone as it is about testing one's potential.

It's fabulous to witness him open up behind the camera like never before.

There's an exchange between two characters wherein one says, 'You wanna come in?' To this the other responds, 'You wanna come out?' This scene, for me, defines the first segment of the story. What is it about? Let's just say it's an exploration into the anxiety, politics and provocations of urban relationships.

Where does the movie connect come? It's subtle.

Bollywood, here, is part of small talk, zany humour, sacrosanct ambiance or a fodder for amusing theories. A kid on the bridge sings Ajeeb dastan hai yeh (Dil Apna Aur Preet Parayee) and Lag ja gale (Woh Kaun Thi?).

A music enthusiast's study is filled with rare records and movie memorabilia. Or picking a favourite between Sridevi and Madhuri Dixit determines... er, you'll have to book a ticket to find out.

While a reserved Randeep Hooda and impudent Saqib Saleem articulate different kinds of intense, it's Rani Mukerji's flawless artistry as an imprisoned soul wearing a mark of normalcy, (even if you see those lovely freckles in all their splendour), which elevates the emotional core of Johar's story and is its dignity and strength.

Speaking of strength, there's tons of it on display in Dibakar Banerjee's Star, which follows immediately after. Based on Satyajit Ray's short story -- Patol Babu, Film Star, Star features Nawazuddin Siddiqui as a struggling actor residing in a rundown chawl who, more than anything else, wants to soar in the eyes of his daughter.

Star, which celebrates the ties between opportunity and spirit, features an emu, a supporting cast of ladies with melting smiles, some sprightly assistant directors and a masterfully utilised Sadashiv Amrapurkar.

And the camerawork by Nikos Andritsakis is simply brilliant in putting all of it across. Just that standalone moment with real cars rushing past a remote-controlled toy vehicle, their co-existence on an active street, is so mesmerising.
Soon after the focus shifts on the figure controlling the remote, 'Hum sirf bhai ko dekhta hai,' he dismissively responds when informed of a movie star shooting nearby. And in one brief moment, Banerjee conveys the veneration reserved for the superstar of the masses --Salman Khan.

It's tricky to discuss my favourite segment in Bombay Talkies without revealing too much. So I'll just say this, even a 25-minute film can change the way you look at, the additions not extras, who fill the frames.

Siddiqui's rehearsal scene and the actual filming are moments that inspire, motivate and create a cinema worth paying tribute to, whether 100 or 10 years old. His Marathi is slightly rusty but when he excitedly divulges, 'Tula mahiti hai papa ne aaj kai kela?' against the stirring score of Rabindranath Tagore's song ---Tobu mone rekho, an accent seems too trivial a technicality to pit against his day's achievement.

After the feel-good Star, it's Zoya Akhtar's turn to enchant with Sheila Ki Jawani. When I saw the promos, I thought her portions resembled Sudipto Chattopadhyay's Pankh but I couldn't be more wrong.

As children, watching your mother get dressed up, especially the delicate art of applying lipstick, intrigues most of us. The only thing unusual here is that instead of a girl, it's a little boy (Naman Jain) who shares this fascination.

Pressurised by his well-meaning but stern father (Ranvir Shorey), he doesn't care for football and harbours Katrina-Kaif inspired dreams. One might try to read more than there is in this premise but there's just no need.

Kids indulge in all sorts of silliness. Not every action needs to be rummaged through for deeper undertones.

Recall a similar plot in Kabhi Alvida Na Kehna where Shah Rukh Khan disparages his son for picking music over sport. Akhtar, however, concentrates on the simple conflicts of childhood with dialogues that reflect their age, instead of the maker. So when one says, 'Do you want to be an air hostess?' The profundity in the other's reply is as straightforward as, 'No I want to be a passenger.'

The eventual pay off is reminiscent to Shashi Kapoor's Bilva Mangal moment in Aag. Both the young members of the cast -- Naman Jain and Khushi Dubey do really well as a pair of siblings looking out for each other. Jain gets extra brownie points for those terrific moves in the segment's spectacular even if simplistic climax.

Anurag Kashyap's tribute to cinema, Murraba is dedicated to Amitabh Bachchan. Personally, I found it the weakest of all the four films because its movement gets a bit repetitive after a while.

Moreover, an overzealous Vineet Kumar as the Allahabad native fails to endear himself or gain sympathy in his fervent pursuit of Big B. His fixation is indirect so the hysterics don't register convincingly.

There are some fine moments too.

Despite all that build up, Kashyap doesn't compromise and turn the superstar into an accessible entity. He is used like an apparition, a believable, tangible apparition and he lets that aura remain. What I liked most was how he uses Mumbai, its people and how they survive on spunk and sense of humour without darkness taking over their being or livelihoods.

Bombay Talkies may or may not celebrate cinema in the direct sense. Except for its hopelessly tacky end-credits -- a complete waste of star power and resources, Bombay Talkies is an absorbing ode to the language of cinema that is part of our collective system.

It honours the imagination and enthusiasm that attracts so many young men and women in this country to embrace a life of risk and rush – filmmaking.

Rediff Rating: