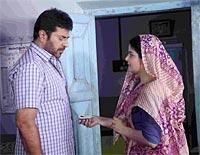 Paresh C Palicha feels Mammootty's new Malayalam film Bombay March 12 is a good effort. Post YOUR reviews here.

Scriptwriter Babu Janardhanan tells it like is. His stories are hard hitting and mostly based on real life incidents and he tackles the issue head on.

Now he has turned director with Malayalam film Bombay March 12, set against the serial bomb blasts that rocked the metropolis in 1993. The film makes the point that a person not even remotely connected with the event can become a victim just because of his name and the religion he believes in.

The story is about Sameer (Mammootty), a sweeper with the Allapuzha Municipality, who is always on tenterhooks because he is on the police radar whenever there is trouble or an act of terror occurs. Later it is revealed that his brother-in-law Shahjahan (Unni Mukundan) was suspected to be part of the terror team that had planted bombs in Bombay (sic) in 1993 and was later killed in an encounter with the Army in Andhra Pradesh.
The narrative moves back and forth, slowly connecting Sameer with Shahjahan who had gone to Bombay as an IT professional, from whom much was expected by his family. The innocent youngster gets entangled in the web of a terror group and goes into hiding fearing the safety of his loved ones.
The storytelling is complicated and you need to be focused as every scene exposes yet another layer of the story, something Babu Janardhanan did as a writer in the Lijo Jose Pellissery directed City of God recently. But there is always a niggling thought at the back of our minds that the point he is trying to make -- that 'one bad egg can spoil the whole basket' -- could have been conveyed just as well in a more simple and linear narrative.
Mammootty plays one of his most subdued roles in recent times. Roma as his wife Abida may look to be a mismatch for Mammootty but the age difference is justified in the story. Sadiq, who appears as Shahjahan's father, is the surprise package of the film. Unni Mukundan as Shahjahan has the role of a parallel hero and does full justice to the confidence that the director has reposed in him.
All said and seen, Bombay March 12 is a promising debut for scriptwriter Babu Janardhanan as a director.
Rediff Rating: