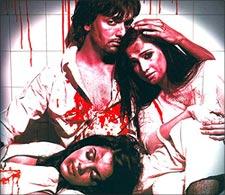 Bloody Isshq is as bad as the title, writes Ankur Pathak.

Well let me just sum up the film for you in one line.
The film is as bad as its title. Or maybe worse depending upon how much you really fancy the title.
It is an easy film to dislike, and there is almost no justification why it is made. The film has a love-quadrangle of sorts that is ostensibly Abbas-Mustan inspired, but then it has an absurd twist of organ trafficking with Bangkok as backdrop; all of which is weirdly reminiscent of the bad films Mahesh Bhatt churns out on a weekly basis. Okay, maybe less frequently.
Let's quickly summarise the plot. One Nirvaan Shroff, played with staggering incompetence by Akash Singh, is a singer with unjustifiable popularity. He's secretly married to one Raadhika (Shilpa Anand of Dil Mil Gaye fame) and the biggest conflict they face as a couple is, wait for it, sexual.
Radhika has a hole in her heart that prevents her from getting "excited". Once, when they try to make love, she does get "excited" but ends up in the hospital with a dropped-jaw. On realising she needs a heart transplant, husband yells his lungs out with blood-shot eyes, "I will get you a HAAART." So much for having sex.
Later, a millionairess called Natasha Kapoor (Shilpa Anand) is introduced and before she enters the screen, she is smitten by our hero who plans to steal her heart. No, literally. She's got that unique blood group. God, by this stage our brain demands a transplant while the fists gear up to tear apart the screen.
But the non-existent story-writers aren't yet done inflicting torture and this is only a set-up for the larger plot about betrayal and seduction, about double-crossing and trespassing and the Lord knows what else.
The lead actor, Akash Singh, has an unreasonable amount of screen-presence; enduring his performance is as painful as getting a root-canal done. To add to the nightmare, he's given hideous clothes (and a frightening hair-cut) which make him look like a struggling model trying to give his best shot in an audition of a C-grade movie.
Actually, that could be said about the entire film. Everyone looks like they are auditioning. And this is interesting because then everyone ends up over-acting and saying lines with such hilarious superficiality, the film resembles a satire that was made on acting itself.
The girls, obviously, wear body-flattering outfits but the camera treats them rather sleazily. As the makers ensure all the mainstream elements are in there, an item number couldn't be skipped. But here, it seems the lyrics were written by someone wanting to attain Youtube popularity. Here's a priceless gem:
"Danger hai Lailla, majnu dil ka mailla,
Aaj-kal hawa mein, viral hai phella"

It's a mystery why these films get made, who finances them, and who benefits from them.
It's time I investigated who's the sinister boss behind this life-threatening genre of cinema.

Rediff Rating: No stars