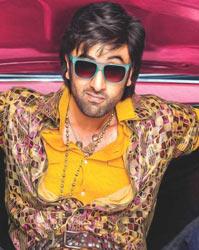 Though the soundtrack of Besharam doesn't quite match expectations, it is still fun and peppy and keeps you engaged, feels Joginder Tuteja.

There are huge, really huge, expectations from the soundtrack of Besharam.

After all, Ranbir Kapoor is now synonymous with fabulous music. His last three releases Yeh Jawaani Hai Deewani, Barfi! and Rockstar are testimony to that.

Moreover, filmmaker Abhinav Kashyap's Dabangg had boasted of some chartbuster music too.

For his Besharam though, he decides to do away with Sajid-Wajid and instead ropes in Lalit Pandit, as the sole composer. Lalit had scored the blockbuster song Munni Badnaam in Dabangg.

It is tough to digest title song Besharam at the first listen. With lyrics like Paidaa Nangaa Hua To Kaahe Ki Sharam, this Shree D sung track tries to be cool, peppy and fun.

However, despite a club setting to it, one takes time to warm up to it. Unlike Batameez Dil which had a similar appeal, this one with Ishq Bector rapping Besharam (it also appears in a remix version) loses its steam during the antara portions. Himanshu Kishan Mehra has penned the lyrics.

There is an attempt to bring on element of fun in a quintessential nok-jhonk number Tere Mohalle.
For a change, Mamta Sharma sings for a heroine instead of crooning for an item girl. She does well, with Aishwarya Nigam for company. With a small town appeal to it, this desi number, written by Nikhat Khan, has a racy feel to it.

Up next is Love Ki Ghanti, which is the unofficial desi version of Italian number Bella Ciao. One can't deny that in spirit, it has a very Kishore Kumar feel to it, right from the mukhda to the portions that follow. A Rajeev Barnwal written song which has a conversational appeal to it, it also has Sujeet Shetty singing like Kishore Kumar, especially in the 50s/60s.
Leaving aside the 'inspiration', Love Ki Ghanti (which also appears in a 'remix version' and has Ranbir Kapoor and Amitosh Nagpal being heard as well), is some good fun for sure.

'Inspirations' continue to make their presence felt, this time quite loud and clear, in Dil Kaa Jo Haal Hai. Starting off as Jo Haal Dil Ka, which was Jatin-Lalit's composition from Sarfarosh, it soon takes a turn with the sound that is straight out of Na Kar Deewana, a chartbuster track by Pakistani band Roxen, which was later (officially) heard again in Tera Mera Rishta [Awarapan].
Now if one is willing to leave behind the 'heard before' factor, this Abhijeet and Shreya Ghoshal number written by Rajeev Barnwal makes for a good hearing indeed, first as an original (!) and the later in the 'remix' format.

Just when one wondered whether a true original number would follow soon, there arrives Tu Hai, which is a sweet love song that has Shreya Ghoshal beginning the portions.
Now this one has a vintage Jatin-Lalit feel to it, though it is only the latter half of the jodi which is at the helm of affairs here. No, one is not looking at the next chartbuster in the offering here but from sheer 'serene' quotient that comes in, Tu Hi does well, especially once Sonu Nigam comes at the helm of affairs, albeit belatedly. One wishes that this Nikhat Azmi written song came earlier though later an 'unplugged' version makes up for it.

After a couple of love songs arrives Aa Re Aa Re which has Rajeev Barnwal returning as a lyricist. First things first, this is one song which is basically for those who have loved Govinda songs in the 1990s.
With the kind of high beats that this yet another nok-jhok number in the album enjoys, especially in the 'remix', it has Mika Singh coming behind the mike with Shreya Ghoshal joining him. One can safely say that with Salman Khan in there, it could well have been a Ready or Bodyguard moment. Now with Ranbir in there, expect the youngster to be seen in a new avtar here, especially with lyrics like Dil Mera Engine Hua Re.

The album began with a club song Besharam and ends with one too as Chal Hand Uthake Nachche arrives next. One of the rare instances where Daler Mehndi and Mika Singh come together, this Kumaar written number has Sunidhi Chauhan joining them as well. Expected to be a song that would play in the end credit title rolls, this one actually gets into the Pritam territory. Aided by some vibrant picturisation and high octane promotion, this one could well cover some distance.

Ever since the promotion of Besharam has begun, some flak has come its way for various reasons. Now though the soundtrack isn't quite the kind that matches up to the kind of high that one was expecting, it still is fun and peppy enough to keep you engaged right through the duration that it plays.

Rediff Rating: