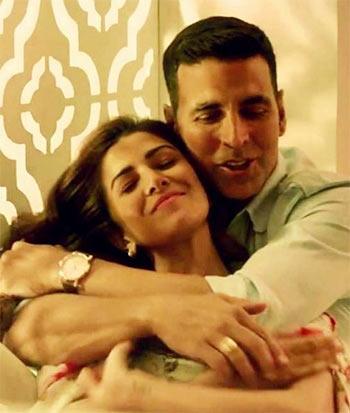 Quite a few good numbers in this soundtrack, promises Aeilina Kapoor.
Airlift may be about Akshay Kumar's character helping in the biggest evacuation of Indians in Kuwait during the Gulf War but the music is all commercial fare.
Composer Amaal Malik and lyricist Kumaar probably had a tough time with the brief, and it shows.
The first song Soch Na Sake is inspired from a namesake Punjabi non-film number by Hardy Sandhu, and turns out to be quite melodious with Amaal Mallik, Arijit Singh and Tulsi Kumar doing well to bring in the right mix of romance and pathos.
In fact, the song has been incorporated twice (this time as a solo) so that it is suitably ingrained in your mind within no time.
Remember the popular number Didi Didi by Algerian artist Khaled that came out in 1992? There is a hint of it in guest composer-singer Ankit Tiwari's recreated version Dil Cheez Tujhe Dedi, which is as Bollywood as it gets.
Actually, the theme and the spirit of the song, with Arijit Singh behind the mike, has its own place in the context of the film. A good mix of Arabic sound and Western arrangements ensures that you go with the flow of the song. And it won't be surprising if this peppy track finds its way to the dance floors.
Next up, is the Punjabi song Mera Nachan Nu, which has Divya Kumar taking the lead, as people celebrate the evacuation being planned for them by Akshay Kumar.
Apart from Kumar, Amaal Mallik and Brijesh Shandilya have also lent their voice to this Punjabi number which resembles Jasbir Jassi's Dil Le Gayi.
The concluding song is Tu Bhoola Jise, which has K K and Amaal Malik coming together. It's quite pleasant on the ears.
While there are a few high points in this well written number by Kumaar, overall, the song has balanced notes and doesn't go overboard. Yes, the Vande Mataram chant towards the end does seem a bit abrupt but one can be assured that in the context of the film, it will fit in perfectly well.
Airlift follows the right path and delivers at least a couple of songs that will be remembered for a long time.
Rediff Rating: