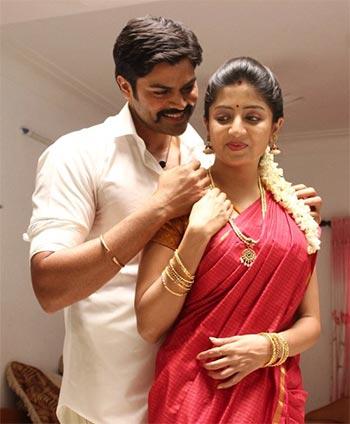 Director Mohan Kumar's Acharam is a decent psychological thriller revolving around a neurotic police officer, whose life and career are destroyed after he is dumped by his prospective wife, says S Saraswathi
Director Mohan Kumar's Acharam narrates the tale of an angry young man with psychotic tendencies.
His life and career are destroyed when the girl he is to wed elopes with her lover, leaving him stranded at the altar.
While most films are sympathetic towards lovers, director Mohan highlights the other side of the story. His focus is on the people who are left behind to face the consequences, and its impact on their lives.
Though an interesting thought, the film ends up becoming too preachy.
Suriya (Ganesh Venkatraman) is a sub inspector who has nothing but contempt for modern young women. He hates mobile addicted, jean-clad modern young women who date.
An honest officer by day, he hunts for modern young women of the by night and shoots them.
He is transferred to Kodaikanal, where he meets Siva (Munna), an architect, and his wife, Ramya (Poonam Kaur), while investigating a theft.
Just one glance at the pretty Ramya and Suriya becomes totally obsessed.
The film then moves off track with a tiresome flashback of Siva and Ramya's love story.
Meanwhile, Siva begins to suspect Suriya's intentions and decides to confront him. An infuriated Suriya claims that Ramya is his wife and belongs to him!
The mystery unravels in the second half with yet another flashback.
Editor Suresh Urs keeps the narrative moving at a decent pace, while cleverly maintaining the suspense. Music by Srikanth Deva keeps up with the tempo of the film.
Kodaikanal, with its haunting beauty, provides a good backdrop for the story.
Poonam Kaur looks young and pretty, but appears too earnest. While Munna, the only reasonable and practical guy in the film, gives a neat performance.
Ganesh, who is the backbone of the film, is admirable as a calm, cool but neurotic police officer. We have often seen him as a charming lover boy, so this dark, brooding and menacing quality comes as a total surprise, giving a new dimension to his acting skills.
Veteran actress Rekha and Gnana Desika Ambedkar, who is also the producer of the film, play significant roles.
Though the plot is gripping, there is no subtlety in the narration, and the vengeance against women is harsh and biased.
The director's strong views on the subject are evident in every scene. He effectively manages to convey how one thoughtless and selfish action can lead to the destruction of many lives.
A more subtle approach, rather than this all out war against contemporary women, would have made the film more compelling.
Despite its flaws, director Mohan Kumar's Acharam is a decent watch.
Rediff Rating: