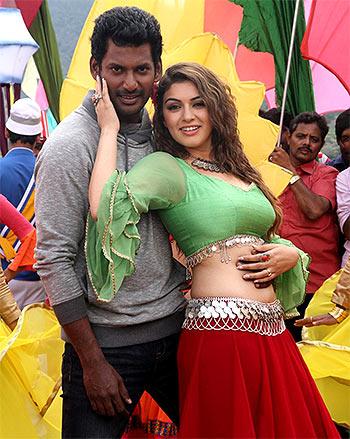 Sundar C's Aambala is a typical masala entertainer with plenty of romance, over-the-top action, humour and great music.
In Sundar C's latest directorial venture, Aambala, Vishal plays the protagonist. Vishal also produced the film under his home banner, Vishal Film Factory.
Hansika Motwani, who plays the female lead, and comedy actor Santhanam seem to have become a regular feature in Sundar's films.
Others in the cast are Prabhu, Ramya Krishnan, Kiran Rathod, Aishwarya, Vaibhav Reddy, Sathish, Madhuurima and Maadhavi Latha.
Love blossoms between Saravanan (Vishal) and Maya (Hansika). There is quite a bit of comedy with the ever reliable Santhanam keeping the audience in splits with his excellent comic timing and witty one-liners.
The terrific combination of Sundar C and Santhanam has always worked in the past and continues to do so.
The first hour of the film is mostly fun with a lot of songs. Hiphop Tamizha Adhi, the internet sensation, makes a delightful debut as music composer with lively, peppy, foot tapping numbers.
Hansika has a whale of a time dancing to his tunes in sexy outfits.
It is almost at the end of the first half that we come to the crux of the matter.
A brief flashback reveals Venkatesan (Prabhu) to be Saravanan's long-lost father and Shakti (Sathish) to be his brother.
Venkatesan is accused of an extra-marital affair and his father's death. He is disowned by his three sisters, played by Ramya Krishnan, Kiran Rathod, and Aishwarya, who take control of his immense wealth.
None of the performances stand out. Vishal has proved innumerable times that he can annihilate the enemy with absolutely no effort at all.
Hansika looks gorgeous and that is all she has to do. Prabhu has a very brief role and even the Ramya Krishnan spark seems to be missing.
The film, however, explodes with colour and characters and moves at a brisk pace with plenty of action, humour and some great music.
This is Sundar C's standard mantra and it seems to have worked for him.
Rediff Rating: