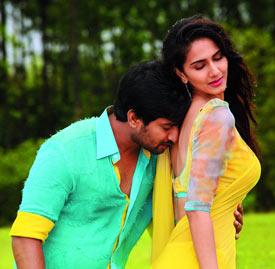 Aaha Kalyanam is a refreshing romantic comedy, writes S Saraswathi.

Yash Raj Films make their foray into South Indian cinema with Aaha Kalyanam, a remake of their own 2010 hit Band Baaja Baaraat. Releasing simultaneously in Tamil and Telugu, the film is directed by debutant A Gokul Krishna.

Nani and Vaani Kapoor of Shudh Desi Romance fame play the lead roles supported by Badava Gopi, M J Sriram and yesteryear actor Simran in a cameo role.

A final year student, Shruthi (Vaani Kapoor) has big dreams for her future as a wedding planner. She has a five year plan, in which she is determined to prove herself, as otherwise she would be forced to concede to her mother's demand to marry and settle down.

Shakti (Nani), on the other hand, is fun and easygoing and the future does not worry him. His only plans are about frequenting wedding halls uninvited to enjoy a free meal.

Shruthi, who is helping with the arrangements of one such wedding, spots him and becomes suspicious, but Shakthi escapes by pretending to be part of the video crew.

Enamored of her dancing skills at the function, he makes her a video. He plans to impress her with the video, but she ends up inspiring him with her concrete plans for the future.

They both complete their education and while Shruthi is filled with ideas and optimism, Shakthi is absolutely clueless. His father, a farmer, wants him to come back to his village and work with him.

Shakti is extremely reluctant. Inspiration strikes and he begins to follow Shruthi around and asks if he can be her business partner.


Though Shruthi initially hesitates, she finally relents, but on the condition that their relationship be purely professional.
Shakti agrees and together they start their company, Getti Melam. They make a great team working together and soon become rich and famous. Shruthi slowly starts to fall in love with Shakti.
One night after a celebratory party with lots of booze, they end up getting intimate. Things become awkward the next morning and how this affects their friendship and business forms the rest of the story.
Friends or lovers, the chemistry between Vaani and Nani is just great. They are totally in sync with each other, be it the gentle teasing, the arguments, the fights, the spontaneous hugs, not to forget the steamy romantic scene between them. They play totally different characters that complement each other perfectly.
Maneesh Sharma's story and Habib Faisal's screenplay received much appreciation in the original film, and thankfully director Gokul has not tampered with it much, tweaking it just slightly to add the local flavour.
Music by Dharan Kumar and cinematography by Loganathan Srinivasan enhance the ambience of the film. Every frame is an explosion of brilliant colours -- reds, blues and yellows -- that bring out the extravagance and gaiety that is so typical of weddings in our country.
The film is more like a beautiful musical, where every song is interwoven with the narrative, serving to take the story forward.
A light-hearted entertainer with stunning visuals, memorable music, and brimming with fun, friendship and romance,
Aaha Kalyanam
is typical of the YRF banner.
Rediff Rating: