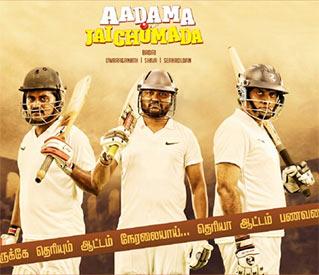 Aadama Jeichomada is directed by Badri, a former assistant to director Sundar C. He directed the remake of Thillu Mullu with Mirchi Siva.
Siva has written the dialogues for the film and it is his voice-over narration in the opening scene that sets the tone for the entire film.
The film is a satirical take on the notorious spot-fixing and betting scandals that have been plaguing the game of cricket in recent times. The director highlights the pathetic attempts by the police department to expose this highly sophisticated network.
Director K S Ravikumar is the Police Commissioner, and Bobby Simha is Bhoominathan, one of his chief officers. Together they are trying to uncover the identity of the mastermind in charge of the operations in Tamil Nadu.
The police have recently discovered that in order to avoid being tracked by GPS, the bookies are passing messages and placing their bets through mobiles from moving vehicles.
Dhayalan (Balaji Venugopal) is one such bookie. He gets into the cab of Panneer (Karunakaran), a call taxi driver, who is heavily in debt. Panneer is married to Rama (Vijayalakshmi), but unable to bear the torture of the moneylenders, she has deserted him.
An important semi-final is scheduled in Chennai and Dhayalan convinces Panneer to drive him around the city, promising to settle all his debts. After an entire day of meeting with other agents, Panneer finally drops him at his hotel room promising to pick him up the next day.
But the following day, when he goes to the room, he finds Dhayalan dead, with a knife plunged through his heart.
Aadukalam Naren, also heavily in debt after producing a flop movie for his ugly-looking son, gets caught up in this racket. There are plenty of fun moments as the film is loaded with wacky characters all bordering between stupid and smart.
The cast is unconventional in looks and performance. Bobby Simha and Karunakaran steal the show, but K S Ravikumar and Balaji (he played the lead in Sutta Kadhai) are equally impressive.
The characters and the situation they unwittingly get themselves into, is well thought out, and cleverly woven into the screenplay. The narrative too is totally unpredictable, keeping you guessing. At just two hours, the story moves at a brisk pace.
The film, however, appears to be a highly exaggerated account of the incompetence of the police. There are two duets picturised on Karunakaran and Vijayalakshmi that are completely over the top. The director has attempted to spoof the style of yesteryear songs, where girls in white dresses danced ridiculously in the backdrop. But it falls completely flat and disrupts the flow of the narrative. Also the end seems a bit too convenient for all the bad guys.
But overall Aadama Jeichomada does work as an entertainer.
Rediff Rating: