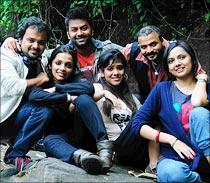 Paresh C Palicha feels Malayalam film 3 Kings does not serve any purpose. Post YOUR reviews here!

After watching 3 Kings -- directed by V K Prakash -- the one question that comes to mind is: what is the purpose of this film?

The film is peppered with insider jokes of the industry.

Konchacko Boban, Indrajith and Jayasurya play scions of a royal family that is debt-ridden and on the verge of collapse. Instead of pulling together to retrieve their fortunes, they dislike each other and readily create roadblocks in each other's path.

Ram (Boban), Bhaskar (Indrajith) and Shankar (Jayasurya) have different talents and try their luck in various fields to make easy money and redeem their inheritance. Ram takes part in a wedding reality show, Shankar makes an effort to be an actor while Bhaskar aka Bhasi is a cricketer.
They are in love with three sisters -- Ranju (Ann Augustine), Anju (Samvrutha) and Manju (Sandhya) -- daughters of a rich man (played by Jagathy Sreekumar) who is trying to take over the royal property in a bank auction. But their plans of getting rich by marrying a rich girl flop.
The script by Y V Rajesh perks us up initially but the excitement wanes after a while.
The actors are in fine form but they do not have anything solid to work with.
In the end, V K Prakash's 3 Kings fails.
Rediff Rating: