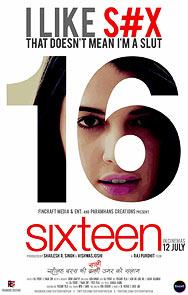 16 is yet another formulaic representation of teenage life, writes Paloma Sharma.

Ah, 16!

I do love a film that allows my eighteen-year-old self to reminisce the good ol' days.

Director Raj Purohit's teen-centric drama thriller is set in what the filmmaker would like you to believe is Delhi but is actually a parallel universe where 16-year-olds smoke like pros at the drop of a hat, adults make twisted jokes about gang rape and elite schools allow their students to wear short skirts.

The film follows the lives of four 16-year-olds and how they cope with teenage angst.

At the centre of the story is Brazilian model Izabelle Leite -- yet another phoren import chosen to play an Indian girl -- as Anu, a vivacious, carefree teenager (yeah, right) who dreams of being a famous model.

Her friends Tanisha (Wamiqa Gabbi) and Nidhi (Mehak Manwani) are polar opposites of each other.

While orphaned Tanisha is highly opinionated, daddy's girl Nidhi is meek and passively content in the arms of her beau, Kartik (Rohan Mehra), just as long as said arms don't get too tight.

Tanisha's 'best guy friend' Ashwin (Highphill Mathews) is burdened by his father's dream of making him an IAS officer.

It is public knowledge that Ashwin is in love with Tanisha, who's one step away from fist-bumping him and calling him "bruh" but Tanisha is the only one who is oblivious to his feelings. To add to that, Ashwin is repeatedly nagged by his father for not being the academic over-achiever that he "should be".
School basketball star Kartik wants to go all the way with Nidhi but she doesn't because she doesn't want to let her father down.

Anu dumps boyfriends once they begin to bore her, will do practically anything to be famous and is on a mission to make her friends lose their virginity.
Enter a pervy paying guest who has the hots for Tanisha but is too old to tell her (this, however, does not stop him from spying on her from his window).
Chasing their desires while trying to keep up with the world and its confusing moral code, our teen protagonists must choose between what they want and what is good for them. Uff, the dilemma!
It is hard to summarise a story that cannot decide what direction it wants to take.

Harder still is to watch aforementioned story on the big screen beyond the first ten minutes.

Izabelle Leite's best few frames in the film are a photo-shoot sequence but at times she appears vacuous.

Wamiqa Gabbi fits her character well but perhaps it is the way in which Tanisha is scripted that restricts Gabbi from achieving a more realistic edge.

Why Mehak Manwani insists on being a nasal zombie is still a mystery that people might not be too eager to solve.

Rohan Mehra looks the part and that's all the comment that one can make. As for Highpill Mathews, his moment of glory can be seen in one scene where he cries his heart out (or perhaps he was having a seizure, but one is not too sure). Keith Sequeira, who plays Tanisha's paedo paying guest, dons an embarrassing-to-the-ear accent that his London-return character could have done without.
On the spectrum from sleazy to wannabe -- Taylor-Swift-y, 16's music covers it all.

Solah Baras Ki Bali Umar has lyrics that not only parents but even teens would like to keep themselves away from whereas Baby Maybe is the kind of tone-deaf bubblegum pop that died off in the 90s for good.

The background score's sole saving grace is that if it ever pops up on your laptop/mobile/iPad, you can always press the 'skip' button.
16 does what it can to highlight the troubles of the urban youth but it often forgets that glamour and good (read: youthful) looks are not the only things that come with being a teenager.

The 16-year-olds in this film, with the exception of Ashwin, face the problem of plenty -- they have enough to live on, enough resources to work with but end up creating trouble for themselves, which could have easily been avoided by using a bit of common sense.

Speaking of common sense, it is still not clear why a 16-year-old Anu is allowed to drive around or why her posh car has a West Bengal plate in one of the shots.
When Kartik becomes angry with Nidhi for not having sex with him (which he and even Nidhi's own friends feel he is entitled to since he has 'spent so much time working on her') and he walks away, she actually runs after him, apologises and tries to make up with him; and no one thinks anything's wrong with that. Also, why 32 -year-old Vikram, the paedophile paying guest, being branded a sensitive, lost writer searching for a sanctuary instead of a pervert is borderline disturbing.
Several tracks begin, not all of them come full circle.

The most interesting character, Ashwin, whose problems are more real than those of his peers, is left unexplored.

Although Ashwin repeatedly ends up inflicting horrifying cuts and bruises that are clearly visible, no one -- neither his friends nor teachers -- take any steps to help him until it is too late and he is forced to take a drastic step. There was much potential in following Ashwin's story but given that kids like Ashwin may not have enough purchasing power to move the producers, he is not given much screen space.
16 is clearly an adult perspective masquerading as a teenage perspective on the lives of teenagers who are trying to be adults.

Every frame of it is unnecessarily and aggressively pushing the sex-booze-hormones stereotype that young people are often put into to simplify them enough to suit adult sensibilities.

While it may take some time for the makers of this film to get used to the fact that most days of teen life are usually spent trying to get away from that boring chemistry/math/history class and trying to get close to that cute guy/girl, it would do well for them to speak to a real teenager before making a film about the whole bunch of us.

Rediff Rating: