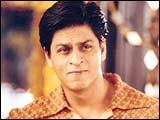 Punch line:

Another heady emotional cocktail served up by the Karan Johar group:  new millennium snazzily dressed Anand or Aman (Shah Rukh Khan) trying to teach the lessons of 'live, laugh, love' to a  curvier, sexier Babumoshai, Naina (Preity Zinta).

Story:

Naina Kapur is one of those pretty American desi girls who walk past you on the New York subway and dont give you a second glance even though you keep looking. In her case, it is because she has the weight of the world on her shoulders: the burden of looking after a dysfunctional family you rarely get to see in a Karan Johar candy-floss lovey-dovey world. 
| | |
| --- | --- |
| | Don't Miss! |
| | |
Sushma Seth is the Punjabi mother-in-law who blames bahu Jennifer (Jaya Bachchan) for her son's suicide and hates their adopted daughter, leading to a continous battle of attrition inside the household. Between trying to mediate between grandma and mother, looking after her physically challenged brother and adopted sister, coming to terms with her father's suicide and trying to financially suport their sinking restaurant business, Naina has been transformed into a cold, frumpy woman who looks and feels far older than her years.
The only ray of sunshine in her life is her friend Rohit (Saif Ali Khan), an unsuccessful Casanova and golden-hearted loser, who is also her classmate in the evening MBA course at New York University.

Enter into this world Aman, bubbling with life, who charms everyone in sight, touches people's lives, unites Naina's family, rescues their restaurant and after the traditional takkar with the heroine wins over her heart.
Time is scarce and this sets the stage for the predictable tragic end as he seeks to bring back the joy of being into Naina's life as his own life seeps out of him.

Paisa vasool:

Karan Johar deviates from his rose-tinted view of the Indian family and looks at a real expatriate family and their problems in a refreshing way.
The heated exchanges between Jennifer (Jaya Bachchan) and her mother-in-law (Sushma Seth) crackles with raw, understated but palpable hatred, a change from the cartoonish sparring we are used to between the saas and bahu in Hindi movies.
The movie has some marvellous comedic moments. Nothing forced, but comedy that flows with the plot and character development.

These moments, which elevate this movie above mere run-of-the-mill, are due to the performance of Saif Ali Khan as Rohit, whose performance is the highlight of the movie. In a King Khan movie, he manages to steal scenes by dint of comic timing.
Unlike the other Khans who are superstars and bear the cross of their stardom no matter what role they do, Saif is not bound by image. That is his biggest asset: he does not take himself seriously. This enables him to act like a 'real' person as opposed to a 'star'.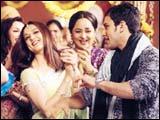 He is very good in the emotional scenes even with minimal dialogue. Witness the scene in which Naina professes her love for Aman and breaks his heart.
Priety Zinta is one of the most versatile actresses around. Here, she does a more than competent job. Jaya Bachchan is beautiful too as the understated, suffering mother, and Sushma Seth puts in an unexpected grey characterisation which, through loud at times, leaves an impression.
Nikhil Advani introduces the characters innovatively. There were sufficient number of cinematic touches throughout the movie that demonstrate a distinctive directorial contribution (as opposed to a Harry Baweja or Guddu Dhanoa caper!).

Bheja fry:

Dragging the movie down has to be the generous dollops of glycerine Karan Johar doles out which can easily rival the amount of blood in Kill Bill.
The script flags in the second half. Save for the well-executed light scenes, the film suffers from a major hangover from the 1970s' weepies. The end drags on and on, through buckets of tears, farewells, problems simplistically solved.
Shah Rukh Khan as Aman pulls out his repertoire which he unleashed in Baazigar. And also in Darr, Deewana, Ram Jaane, Zamana Deewana, Pardes, Chalte Chalte, Asoka and virtually every movie we have seen him in.
He does it all -- nostril flaring, lip-curling, eyes watering -- the same old stuff.
Karan Johar makes it easy for him to grandstand, feeding him dramatic, over-the-top scenes where subtler displays of grief and loss would have carried greater impact. This dilutes the entire emotional quotient of the movie and almost reduces it to the starchy eye-candy that forms the hallmark of the Yash Chopra school of moviemaking.
Only the genuine comedy and Saif's natural perfomance prevent it from being one among the mass of similar movies churned out each month.

Last word:

An admirable effort which should have ended an hour before it actually did.

Final verdict:
6/10