The heist stretch of the movie is not without imagination, but arriving at that chunk, and sitting through what follows, can be bad for your skin, warns Sreehari Nair.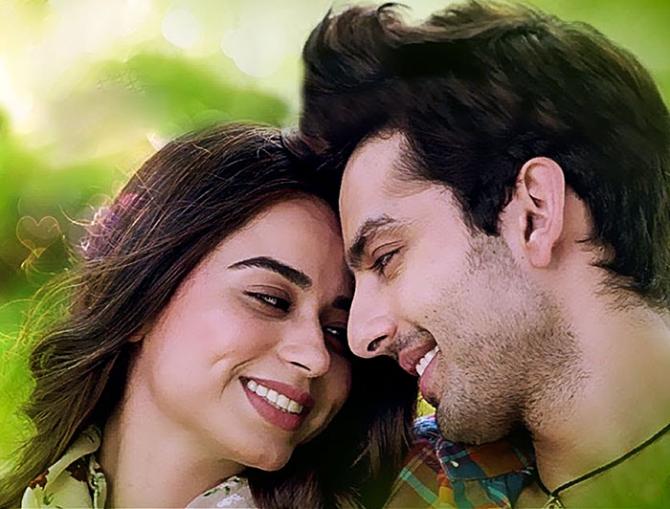 Right after intermission, Sattwik Mohanty, the director of this logy, literal-minded film, comes up with an inspired choice: he dresses up three of his five leads in burkhas, shoots them in long-shots and consigns the remaining two leads to semi-darkness.
If you can't kill your problems, hide them!
With these five spiritless actors now turned into props, with only their (often dubbed) voices hovering in the air, Mohanty then pumps into the mix such performers as Satish Kaushik (who seems to be becoming a lighter actor as he's bulking up), a gloriously hammy Pitobash, Jimmy Shergill (what's better than an all-powerful Shergill? A frustrated Shergill!) and Mukesh Bhatt, and together these actors construct a 30 minute-long heist-and-hostage scenario set in the environs of a Kisan Grameen bank.
It's not the brightest 30 minutes you will see at the movies this year, but in a movie as rank as this one it is something you can accept with grace!
With the pressure-cooker situation all set up, Mohanty doesn't rush to deliver the kill; instead, he waits.
And in this waiting, he lets his actors free-associate in a kind of pop-psychology pool.
The characters -- a blend of the inept robbers, clumsy bank chowkidars, policemen who'd rather solve a 'real case' than break their knuckles over this one and villagers looking for some action -- all raised on movies, fed media lies and their senses assaulted by stories hipper-dipper, start expressing themselves in unique ways.
Mohanty pitches them like real people who are slowly becoming conscious of their lives turning into an imitation of a heist movie.
For instance, there's Mukesh Bhatt's chowkidar who wants no bloodshed (He knows what happens to those watchmen in the movies when they act all smart!) and so he mildly chides the robbers for not bringing a rope with which they could've tied him up. In total courteousness, he then directs them to the storeroom.
Later, it's revealed that there is more than one watchman and not enough rope. It's a comedy-routine, like at the movies, and it causes Bhatt to chuckle a little.
A jeep full of policemen arrive at the heist scene almost by chance; one of the policemen has a nephew who works as the chowkidar and it's he who customarily serves them their glasses of night-patrol tea.
On realising that the tea-dispensing bank has been taken hostage, the police do a gherao, but they don't have enough ammunition or even back-up force (the back-up force is out attending a high-profile marriage ceremony).
The back-up arrives the next day in a goddamn bus, since the jeeps are still servicing those at the marriage and the new policemen don't waste any time to flaunt their little trinkets ('They gave us silver coins,' explains Kaushik's inspector character, with great pride).
The robbers themselves, without any experience of robbing, are left fumbling when asked what their demands are.
'What are our demands?' they wonder to each other.
In those 30 minutes of characters trying to box their way out of a genre film, Ranchi Diaries, almost unknown to itself, becomes a daydream of a heist picture. But unless you're a movie watcher who can swallow a good chunk while spitting out the rest, you are likely to forget this stretch of Ranchi Diaries five minutes after you have staggered out of it.
And that's because everything that surrounds the heist is so clunky, so utterly pointless, that this could well have been a 30 minute short film without any character development or set-ups and it may have worked better.
In a nutshell, the movie is about five bums from Ranchi who hatch a plan to become rich overnight, and who, by the end, are taught lessons in humility by Prime Minister Narendra Modi.
Getting the prime minister's television footage could not have been tough since this is a movie co-produced by Anupam Kher who holds out till the very end before he unloads the deus ex machina of Modi upon us.
This little twist does have a shade of irony and Sattwik Mohanty may have used it as a 'pitch' to convince Kher who, it seems, was so taken by it that he also lent his acting services to the movie.
Kher plays a total despot here, Thakur Bhaiyya, and, to mask the piousness in his eyes, wears sunglasses throughout the movie.
Thakur Bhaiyya is surrounded by cronies who don't quite get his usual-speak and for whom especially Bhaiyya decorates his lines with a ribbon or two of metaphor. It's Kher's idea of 'evil' on full display.
In the initial sections of the movie, we see Thakur Bhaiyya feuding with Shergill's Lallan Singh (nephew to Thakur, who will accept his favours but give him a wedgie as soon he turns around) and tormenting our group of five.
It's that unpromising set of young actors at the centre of this movie that hurts Ranchi Diaries the most.
Special mention must be made here of Himansh Kohli (playing Manish), who does his best to remind you of the 1980s, and who can't even bite into a paani puri without mopping.
Soundarya Sharma (who plays Gudiya) is a better actress than this movie suggests. When her character dips into her darker side, it's a hoot to watch.
In another movie, she would look terrific acting nasty, doing vicious things with detachment, and with that little malicious smile of hers. But here, when she tag-teams with Kohli, she's made to peddle positivity while whining through the whole process.
Then there's Taaha Shah as Pinku, with his gang of slobs who see their lives on the terms of the English movies they watch; there's a whole effort in their section to show us the cleverness in translating Hollywood blockbusters into Hindi.
The tone and speak of this set-up mirrors the performances of the five leads: it's a south Mumbai kid showing us his impersonation of a Bihari; a dandy's version of a redneck.
The technique is all go-go-go with Mohanty constantly splitting the screen into five parts in a bid to show us the action from five different viewpoints -- there's not one that sticks out!
It is within this mass detritus that Sattwik Mohanty pushes in that inventive 30-minute stretch of heisting and you immediately get the conceit: that everything else is a mere put-on. This is a sketch ballooned into a movie.
By the end, you see the cast all exhausted and, when they leave the scene, it's as if they're going to their make-up vans.
But Pitobash, as the firebrand Naxal leader, continues to act and you feel for him. It's like he is doing it to test himself as a performer.
Rediff Rating: