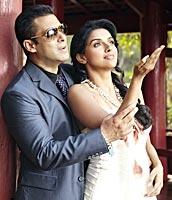 Raja feels Ready doesn't even try to make sense and therefore falls flat. Post YOUR reviews here!
One of the most frequently repeated terms to describe and legitimise Bollywood's silliest products is "paisa vasool." This patronising yet appreciative phrase denotes giving up, the person using the term confessing that while the film in question is harebrained and stupid, it may still end up a sequel-spawning behemoth at the box office.
Salman Khan's recent films frequently fall into this category, lovers of the "paisa vasool" phrase gorging on the predictable mindlessness: a few rude gags, a few politically incorrect ones, each tragically unfunny, a sketchy plot that nevertheless must be spelt out in full, some sexist dialogue to the heroine, some random Sallu Bhai in-jokes, one climactically hyped moment of shirtlessness. Yet the phrase is used just like it would be at a shaadi buffet with mediocre catering -- we call it "paisa vasool" because we don't actually spend a single coin to watch it.
If, however, I had to pay to watch
Ready
, Anees Bazmee's latest film, I would feel sorely insulted. One doesn't and can't really take offense at a bad film, but a film that doesn't even try… Now that's a whole different league of idiocy. It's all very well to turn Priyadarshanese into a bloody genre, but films like
Ready
often don't even feel like actual films: just a showcase of Sallu Bhai and his intentionally-limited skills. The plot is puerile, the characters are stock, and the heroine is a prop, all so that Salman can strut around like a megastar and some of us can applaud indulgently as if watching a twelve-year-old paint the roof of a chapel. With a chappal. (Yeah, that pun would have made it into Bazmee's script easy.)
To make things clear, this is not
Dabanng
. Looking at that historically huge hit, one can see what works: Salman swaggers around the place in a moustache, sure, but there is also a fundamental reliance on plot, however inanely formulaic. In this latest film, Khan seems to be pushing his own rather frightening envelope -- "How little
can I get away with?" "Will they pay to just watch me smirk?" "Can I do this scene campy and that scene straight?" "Will the audience eat up random groin thrusts if only I use the hilarious word 'peoples' over and over again?" -- and
Ready
, as a result, falls flat for lack of trying. It is a film trying to coast on Salman while Salman tries to coast on his own star-wattage, and so we have a film with a first half that takes ages to get going and a second half that just doesn't end.
The plot, seemingly filched from Bazmee's own, far funnier
Welcome
, with a pinch of Priyadarshan's
Hulchul
, revolves around two warring mafia families trying to nab a young girl's inheritance. It unfolds simply, conveniently, and very predictably indeed. After all it is just backdrop. There are a few gags, of course, and Khan occasionally does as only stars very aware of their own deification can: sell an impossible scene, and despite all the bad writing, make it work simply by dint of his screen presence. But even that seems mostly muted in this nothing film.
I have previously
remarked
that Asin's last name must secretly be Ine, and here the actress is even more insufferable than before, and doesn't even look nice while she annoys.  Mahesh Manjrekar, Manoj Joshi, Sharat Saxena do what they can, but this film -- where the comedic highpoint is the fact that two morons are named after Salman flops,
Veer
and
Yuuvraaj
-- doesn't give anyone, especially the talented and creatively abused Paresh Rawal, any wiggle room.
Those who are clapping for this film almost got the phrase right, only it's more extortionate than value for money: the accurate term is "paisa vasooli." Pay up.

Rediff Rating:

You can catch the other Rediff review for Ready here.