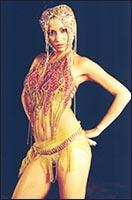 The question: Can Ram Gopal Varma, like with Urmila, catapult Antara Mali to superstardom?

 

From Main Madhuri Dixit Banna Chahti Hoon to now main Urmila Matondkar banna chahti hoon in Naach, Antara is always playing someone wanting to be someone else. In Naach, it's unfortunate that we only get a glimpse of what Antara is really all about. She constantly reminds you of Urmila in Rangeela. It is sad to see such huge potential being wasted. Little wonder, then, that in spite of her sultry looks, fabulous physique and more than average acting skills, she has not a single hit to her name.

Ironically, unlike the real Antara, her character Reva strives to be unique. Naach, reminiscent of Rangeela, is a story about love, principles and aspirations.

Abhi (Abhishek Bachchan) is an aspiring actor and Reva, a wannabe choreographer. Hungry for success, Abhi is ready to accept the film industry as it is, while Reva is uncompromising and wants to break the rules with her unique choreography style. They fall in love but soon engage in a battle of principles. By the interval they drift apart, riven by individual ideologies.

Post-interval the story drags a bit, and eventually Abhi realizes his mistake and wants Reva back in his life. All is well that ends well... yes, the Rangeela type fairy tale is reproduced. However, if Rangeela was a light-hearted, fun-filled romance, Naach is intense, slow paced and more 'mature'.

A string of intense moments stand out. Although the plot is not so khaas, Ram Gopal Varma's direction maintains a quality standard. The pace is slow and carefully set. Pregnant pauses and unsaid dialogues form a good break away from the typically 'loud' Bollywood style. The attention to detail is enchanting: people getting in and out of a bus, the conductor ringing the bell, and two strangers having a dialogue -- all captured

in one scene.

 

The stylistic element in static shots versus the fashion-photo-shoot look in dance sequences is a great blend. Ramu's penchant for realism continues. After underworld mafia stories like Satya and Company, his style lingers in this love story. However, in Naach we see realism stylised, with clean Mumbai roads, ethnically decorated plush apartments, tinseled garments, hundreds of extras slithering on lavish dance sets, and the traditional luxury of breaking into song!

 

What I find fascinating about Ramu's films are his female characters. They are unconventional, bold and strong protagonists. Whether the cigarette-smoking Manish Koirala in Company, the small-town filmi Antara in Main Madhuri Dixt Banna Chahti Hoon, the avenging Urmila in Ek Hasina Thi, and now Antara as an ambitious, uncompromising and strong-willed choreographer in Naach. Unlike Subhash Ghai's heroines, who continue to reiterate traditional values, resort to emotional sentimentalism, and reinforce the subservient Sati Savitri-like Indian woman, Ram Gopal Varma's heroines at least 'appear' to break rules, have premarital sex, rent a house, take up a job, and defiantly flaunt their assets.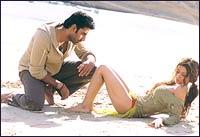 Overall, the look and feel of the film is 'New Age'. The blend of Antra's yogic postures with Western dance; queer make-up;  ghetto pub culture; the unkempt, Rasta hair; carefully crafted body piercing and tattoos; along with intricate body painting are just a few examples you shouldn't miss. If Manish Malhotra started the trend of psychedelic colours and dressed Urmila Matondkar in flamboyant short dresses resembling petticoats, Gavin Miguel has a curious asymmetrical unrealistic style. If you want to follow Miguel's trend then drop an earring, lose a pair of socks, wear striped stockings and don't forget to add feathers and horns on your head!
For a movie titled Naach, you expect the music to be rocking, but Naach has nothing musically exciting to offer. None of the eight tracks make you wanna dance. Amar Mohile and Shailendra Swapnil have tried hard to recreate Rangeela's peppiness and there is an overall Rehman hangover.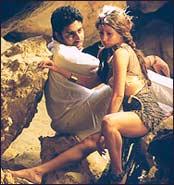 The 'unrehearsed-performance' style by Abhishek and Antara works well. Abhishek is picking up ever since Yuva and Dhoom, but Baby B needs to lose some baby fat. In stark contrast with Antra's taut body, Abhishek looks flabbier. Antara's long-drawn silences and just the slight amount of emotional display works well for her character. But nothing to beat her dance performance! She masters the extremely difficult dance steps.  Now only if you can be original, Antara…
Another interesting feature is the film's ability to mock itself. Bollywood filmmakers are getting introspective as they make films about the industry. After touching upon it in Rangeela, and lampooning it in Naach, several yet to be released films, including The Film, Page-3 and Film Star will grapple with this self-reflexive theme. Naach mocks Farah Khan, pokes fun at Subhash Ghai and laughs at the song and dance in Hindi films. The trend to expose Bollywood and demystify its glam world makes the audience laugh in Naach, but lacks the fresh quirkiness of Rangeela.
You are bound to compare Naach with Rangeela. Antara's Urmila-like poses and overall look, the music that reminds you of Rehman's Rangeela re and even the happy ending story line. But can Ram Gopal Varma recreate the magic of Rangeela and make Antara an overnight superstar? Will the same formula work twice? I don't think so. The film might draw curious crowds initially and definitely Ramu's fans including the Factory boys. I give the attempt three and half stars, and it's your call whether or not to watch it.