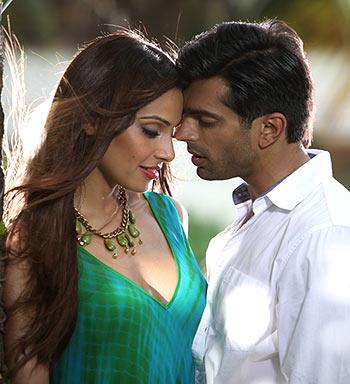 Alone makes for comfortable listening even though it has no chartbusters, says Joginder Tuteja.
Four composers come together to create a song apiece for the Bipasha Basu starrer Alone -- Mithoon, Jeet Ganguli, Ankit Tiwari, and Raghav Sachar.
Filmmaker Bhushan Patel's previous two horror films, Ragini MMS-2 and 1920 - Evil Returns, were both musical successes.
The sound of guitar strings begins Katra Katra, composed and sung by Ankit Tiwari. Prakriti Kakar's voice is heard first as she croons about her love for the man she desires.
The song is in the same mould as many Bhatt movies that made seduction an important element since Jism. The lyrics of Katra Katra are by Abhay Upadhyay.
Mithoon arrives on the scene with Awaara, easily the best song of the album.
He writes and composes this soft number in which the sound of the piano is heard often. The start by Altamash Faridi is in the same mould as Aashiqui 2 and many other soundtracks of the same ilk, but the hook-line 'Awaara Awaara Dil Awaara Hua' is catchy.
With Saim Bhatt joining in, the song hits the perfect chord.
Newcomer Bhaven Dhanak comes in with the romantic Chand Aasmano Se Laapata, which is written by Sandeep Nath.
It's the kind of song Udit Narayan is famous for. Bhaven has a clear voice, which is suited to the composition by Jeet Ganguli. It will be appreciated by those who love the music of the 1990s.
So far the album has been high on romantic numbers. Touch My Body, an adaptation of Dr Zeus's super hit Kangna is a dance number.
Raghav Sachar brings in a new sound with this energetic number that has lyrics by Kumaar.
Aditi Singh Sharma shows once again how well she can deliver a peppy number. The song should have been much longer than its under-four minute version.
There is a consistency to the music of Alone that makes for comfortable listening even though it has no chartbusters.
Rediff Rating: