Breathless action is the only script 56-year-old Tom Cruise needs to work on as he jumps off from building to building with an agility and assurance that could put Spider-Man to shame, notes Sukanya Verma.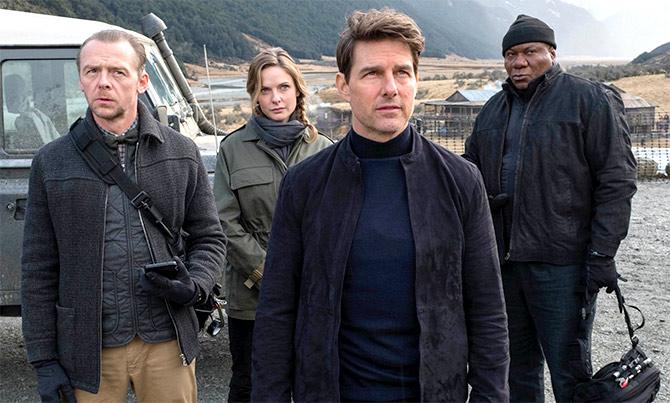 Tom Cruise's inspiring dedication to daredevilry is the backbone of the Mission Impossible series.
Many jaw-dropping, eye-popping, spectacles have come off it unswervingly, unbelievably.
In the age of instant gratification and waning memory, the greatest challenge is to rouse repeat value.
Ethan Hunt's nail-biting escapades and kinetic feats deliver on it instalment after instalment despite an onslaught of tentpole entertainment.
Mission Impossible: Fallout, the sixth movie in the franchise that kick started with Brian DePalma's enigmatic adaptation of Bruce Geller's television series, continues the tradition of raising the stakes of insurmountable odds and, I am happy to report, shows no signs of a slowdown.
If the ruthless vigour and interpersonal dynamics in Rogue Nation paved the road for breezy, director Christopher McQuarrie's return in Fallout is all about going full steam and surviving worst-case scenarios.
What unfolds is a flat out feast for the action buff.
Breathless action is the only script a 56-year-old Cruise needs to work on as he jumps off from building to building with an agility and assurance that could put Spider-Man to shame.
His marvellous stamina as he dashes through the streets of London, rides a cool bike through nastic Paris traffic, rams a van inside its narrow by lanes, sky dives some 20 thousand feet above air, climbs a steep mountain or participates in a crazy chopper chase atop snow-covered Kashmir landscapes (that's New Zealand and Norway, by the way) is a thrilling reminder of Hollywood's golden age of action movies before green screen and CGI sucked the joy out of devil-may-care exploits.
Mission Impossible: Fallout peaks when it's engaged in ceaseless adventure boosted by Rob Hardy's spirited camerawork and Lorne Balfe's pounding background score.
There's very little time for strategy or survey as operations go bust, terrorists are bartered, identities are faked and countries are trotted in the recovery of lethal plutonium.
Hunt and his reliable aids (a robust Ving Rhames, a anxious Simon Pegg) at Impossible Missions Force resume business to seize the bad guy (Sean Harris, more pawn than peril) while a brawny special activities agent Henry Cavill appraises their proficiency. Cavill's stuck-up Clark Gable-ish machismo more than keeps up with the nimble-footed Cruise.
Mission Impossible's frail female presence got a dazzling facelift in Rebecca Ferguson's feisty introduction in Rogue Nation. Though a little less potent, the punch is still there.
The other women -- Vanessa Kirby, Angela Bassett and Michelle Monaghan -- show up sporadically, but maintain a strong and productive profile.
Tom Cruise is a perfectly good reason to catch any and every Mission Impossible movie.
The exhilaration his death defying stunts provides, ones he so insists on doing on his own, give Ethan Hunt that unmatched credibility which separates action heroes from action figures.
Rediff Rating: