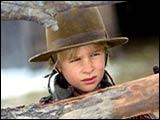 Impressive vistas, uncompromising depiction of harsh frontier life, decent performances and an Oscar-winning reputation are not enough to turn The Missing into a compellingly interesting film.
It lacks drama. And heart. It overworks in trying to show the harshness and loneliness of the American West. The film works better as a rescue mission thriller in which a mother, a daughter and a grandfather risk their lives looking for a missing girl.

Among the film's themes are reconciliation between estranged father and daughter and seeking the understanding of culturally different people. But they haven't been dealt with the right kind of enthusiasm or sharpness. As for political correctness, the film works too hard to convince us that the blood thirsty and ruthless Apaches learnt their cruelty from their association with the white expansionists.
Director Ron Howard (of the Oscar-winning A Beautiful Mind), is unable to overcome the script's limitations. His new film may fetch a few technical Oscar nominations and one for an intense performance by Cate Blanchett, but it will be a wonder if it gets any other significant nominations.

Instead of a pulsating Western like the ones Sergio Leone used to make with Clint Eastwood or a quiescent, meditative one like the one Eastwood gave us in Unforgiven, we have here a dull two-hour-long misadventure.

The Missing tells the story of local healer (Blanchett) in the late 19th century in New Mexico who is reluctantly reunited with her estranged father (Tommy Lee Jones) after her teenage daughter (Evan Rachel Wood) is abducted by an Apache.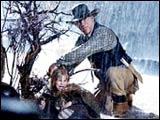 The father had abandoned her and her mother about two decades ago to live among the Apaches. A devout Christian, the daughter cannot understand her father's flirtation with Native American mysticism.

Though she dislikes him, she needs his help to confront the kidnapper, a male witch (Eric Schweig), especially after her lover was killed by renegade whites joining forces with Apaches. The local sheriff (Clint Howard) and cavalry leader (Val Kilmer) won't help her.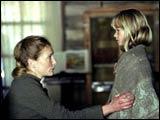 Joining the rescuing trek is the victim's younger sister, Dot (Jenna Boyd).

While Blanchett and Jones offer the film some weight and liveliness, they cannot really rescue it because their own characters have not been fully developed.

It will take a small miracle to prevent The Missing from riding quickly into the sunset.

CREDITS:
Cast: Tommy Lee Jones, Cate Blanchett, Evan Rachel Wood, Jenna Boyd, Eric Schweig, Clint Howard, and Val Kilmer
Director: Ron Howard
Screenplay: Ken Kaufman based on Thomas Edison's novel The Last Ride.
Rating: R for violence and language
Running Time: 130 minutes
Distributed by: Sony Pictures