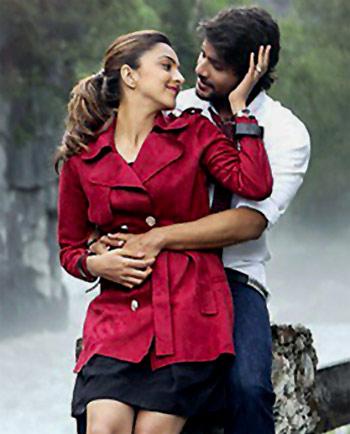 Unless you want to become a machine like this film probably wants, stay away from it, advises Prasanna D Zore.
Disclaimer: The writer of this review was brainwashed by an evil voice soon after he finished watching Machine -- he is yet to regain his senses -- and as a result, he was reduced to a machine: A brainless, heartless machine that makes no sense of what one sees and writes.

Consequently, he is behaving like a machine and this review was coded by him using an intricate machine language.

If you understand this review, you don't need to watch the film because you have just turned yourself into a super-intelligent being.

If you do not understand it, what's the point in watching Machine , since the film was not made for you in the first place.

Got it?

Even if you don't, I don't care, and I assure you I am not being rude. Blame it on Machine.

I can also assure you that I am just emulating the makers of Machine, the Burmawalla brothers, the director duo of Abbas-Mastan.
By making a film like Machine, they have proved that they don't care what filmgoers will make of this film.

From the very first frame, Machine challenges your intellect and defeats you in the exercise.

Why?

Because they expect you to be super-intelligent. I had warned you, hadn't I?
Let's talk about the first frame: The camera pans over lush green mountains and you tell yourself the film is likely set in Swiss Alps or some such locale in Europe. You're wrong, say the makers.

Had you had the super-intellect required to comprehend films like Machine, you would have recognised those mountains 'somewhere' in North India.

Later, the directors take Machine to another level, literally, when you see human beings defy gravity, wafting through the air like a feather before hitting the ground or hanging aloft pine trees without them even bending as much when birds perch on them.

Then, you have the film's hero/anti-hero Mustafa Burmawalla, (Shah Rukh Khan, beware! Finally, there's competition!) telling his heroine Kiara Advani: 'Main tumhari lipstick toh kharab karoonga lekin aankhon ka kajal kharab hone nahi doonga.'

Only machines will know what that means!

In case you're wondering if this is a film review at all, it's really not my fault.

Machine is not a film in the first place -- it is a 148-minute parody that ends up possessing your mental faculties.
Rediff Rating: