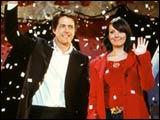 The visiting American President with a roving eye cannot miss the plump aide to the new British Prime Minister.
Unlike the president who has come to London without his wife, the Prime Minister is a bachelor, and he resents the American trying to make a pass at the young woman. The Prime Minister has been smitten by her on their first day of work -- and if he has to push the American out of the way, he will do it. Never mind the diplomatic niceties.

Quite a bit of Love Actually, an often clever, funny and touching comedy, is concerned with the Prime Minister's yearning for the aide, a lowly tea girl. With Billy Bob Thornton as the American, Hugh Grant as the Prime Minister and Martine McCutcheon as the Monica Lewinsky-like aide, the romantic episode is the movie's highlight. 
Particularly amusing is the sequence in which Grant, feeling guilty that he has been harsh towards her, goes out looking for her one night. He knows the name of the street where she lives but since he has no address, he keeps knocking on  a few doors, leading to several amusing situations including one in which three kids get him to sing carols. 

Among the many grand moments Grant has in the film, the best one happens when, overwhelmed by his preoccupation with the aide, he looks at the portrait of Margaret Thatcher and asks: "Did you have this kind
of a problem?" And responds in a second, "Of course, you did, you saucy minx."
The scene would be a bigger hit in England, but it did draw plenty of hearty laughs at a recent packed preview in New York and a few weeks ago at the Toronto International Film Festival.

A British import that interweaves nearly a dozen love stories taking place in the Christmas season, the movie is directed by first-timer Richard Curtis.

Curtis wrote the successful romantic comedies like Four Weddings And A Funeral, Notting Hill and Bridget Jones's Diary, all starring Hugh Grant. The film, which opened on 570 screens on Friday is expanding nationwide this weekend.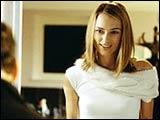 At times it is too sweet and upbeat, a bit too shallow, and very manipulative. Not all the interconnected stories work out well, particularly the episode about a gawkish young man who arrives in Wisconsin in the middle of winter hoping for lots of sex -- and ends up getting a sweetheart.
Yet this handsomely shot film with many rousingly entertaining episodes could seduce the viewers. And, before they realise, they would be grinning silly and having a good laugh.

It takes some time to make sense of the seemingly chaotic lives of so many people. Among them is the Prime Minister's sister (Emma Thompson) who suspects her husband (Alan Rickman) being lured by an office fox. Thompson excels in the scene in which she confronts her wayward husband.
The moment could have turned into a melodrama by a lesser talent. But Thompson turns it into a dignified act. And as written by Curtis, her reaction gives the husband a chance at redemption.

It is not easy to forget the triangular episode: Best man (Andrew Lincoln) has a crush on the new bride (Kiera Knightley) married to his best friend (Chiwetel Ejiofor). She thinks he does not like her at all. So he devises a novel way of letting her know.
But he is not a spoiler. "Enough, enough," he mutters to himself after he has revealed his adoration  to her but he has also resolved that he will not screw up the marriage.

Laura Linney, as a woman who cannot bring herself to reveal her love for a shy colleague, turns in a luminous performance. Watch out for her exuberant reaction soon after she has asked the man into her house.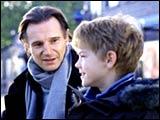 Among the more amusing episodes is the one in which a fading pop star Billy Mack (Bill Nighy) is seeking a comeback at any price but when success comes to him, he has also to do a bit of heart searching and confess his love.

The movie becomes over cute and over manipulating in the episode about a 10-year-boy (a brilliant Thomas Sangster) whose mother has just died and who has developed a huge crush on a girl at his school. With the help of an understanding father (Liam Neeson), he sets out to profess his love.
Much of the film's climax which takes place at the airport involves the very young couple, and it has been overdrawn, and feels like a climax in a Bollywood movie.  And yet because Sangster is so lovable and sharp that it is difficult to resist this segment.

The most poignant of the episodes in the film centers on a lonely writer (Colin Firth) visiting France where he gets to admire and love his Portuguese housekeeper (Lucia Moniz) who doesn't know English. The linguistic barrier leads to mildly funny events but the script is more concerned in portraying the slowly evolving love between the two. There are many charming and funny moments when  the writer returns to France from England in the hope of proposing to the young woman.

Perhaps the imaginative episode in the film is the one involving two young stand-ins (Martin Freeman and Joanne Page) who cannot reveal their hearts to each other, though they simulate sex scenes in the nude for a movie.  

Because not all episodes work out equally well. There are times you may find the film overdrawn. Yet because you are laughing silly in a few scenes, wiping out a tear or two in another, and shaking head wondering why some people are denying themselves love, you may not mind the length.
You may wonder, though, if he could be in the stunningly-shot London for the Christmas.
CREDITS:
Cast: Hugh Grant, Martine McCutcheon, Emma Thompson, Alan Rickman, Thomas Sangster, Liam Neeson, Colin Firth, Lucia Moniz, Keira Knightley, Chiwetel Ejiofor, Andrew Lincoln, Martin Freeman and Joanna Page, Laura Linney, Billy Bob Thornton
Writer-director: Richard Curtis
Running time: 2 hours, 15 minutes
Rating: R for simulated sex, nudity and language
Banner: Universal Pictures