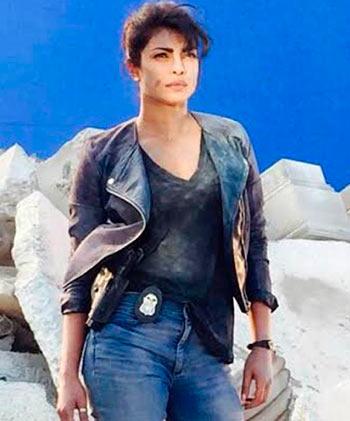 Quantico looks like your run-of-the-mill Homeland-esque drama whose only USP is Priyanka Chopra, writes Paloma Sharma.
Agent Alex Parrish (Priyanka Chopra) wakes up on a piece of debris that lies in the middle of New York City as a result of 'the most devastating terrorist attack on American soil since 9/11.'
She goes on to tell you -- in an accent which doesn't really sound in place -- that she always dreamed of protecting 'our' country.
Barely soot-faced and sporting black wedge heeled boots, Parrish goes into flashback about her training days, as a generic haunting melody plays in the background.
As it turns out, Parrish attended Quantico, an FBI training academy that she goes on to describe as 'the toughest boot camp, grad school, all rolled into one'.
Visuals of trainees standing on a rugby field, walking through glass corridors and sitting around an auditorium play flash before one's eyes. The background score turns up the bass, and every effort is being made to convey the seriousness of the situation.
However, one cannot help but be reminded of the slew of young adult films (based largely on young adult books) that hit the big screens only last year. Divergent or (one shudders to speak the name) Vampire Academy ought to ring a bell.
The trailer goes on to introduce the characters, among whom one finds a homosexual man and a hijab-wearing woman -- both of whom would be highly unlikely to display such uniqueness in an institution that discourages any signs that may make one stand out if this were not make believe -- but woohoo for diversity on TV anyway.
The most important character other than Parrish is Agent Ryan Booth (Jake McLaughlin), a man with whom Parrish has choreographed anonymous sex in a car, only to find out later that he too is enrolled in the same training programme.
While the rest of the cast fails to cause any fan girl gushing over the TV series, two names do inspire some relief.
Aunjanue Ellis plays Miranda Shaw, the Director of Quantico, and Dougray Scott, who is seen as Special Agent Liam O'Connor, one of the trainers at Quantico.
It is to Special Agent Liam that Parrish confesses that she had only been partially truthful during her interview, only to find out what a bad career move that was when the trailer cuts to him arresting her for an explosion that has blown up half of New York City.
But Parrish is determined to prove herself innocent. She escapes from custody and vows to investigate the act of terror and clear her name; at which point one is forced to ask if Angelina Jolie has passed the Salt to PC, if you know what I mean.
Quantico looks like your run-of-the-mill Homeland-esque drama whose only USP is Priyanka Chopra.
While it was a smart move to cast her, thus ensuring that Indians would tune in by the truck loads and Americans would appreciate the diversity since the fairness cream-endorsing actress is, after all, brown, Chopra's accent lingers long after the trailer ends.
As far as trailers go, Quantico follows every instruction in the book and gets it right in the technical department. But it doesn't really entice you enough.
Nevertheless, it is important to remember that one has only seen the trailer, hence it would be unfair to judge prematurely.
But it's disappointing that the makers of Quantico had almost four minutes to give one a reason to watch their show and despite featuring one of the best known Bollywood actresses in the lead, they couldn't.
Did you like the Quantico trailer? VOTE!