When the tagline of a film is 'the warrior poet,' the music ought to be a blend of ardour and romance. Subhash Ghai's Kisna does manage a fortunate mix of the two.

 

Combining the different-as-poles talent of A R Rahman and Ismail Darbar, Ghai creates a surreal melody that is a treat for fans of both musicians.

 

They give the soundtrack a sense of enormity appropriate to an epic film.

 

The album opens with the passionate Hum Hain Iss Pal Yahan. Its unconventional, ethereal tune, coupled with catchy rhythm, makes it the most brilliant song of the album. Credit should also go to Udit Narayan and Madhushree, who perform this clearly difficult number superbly.

 

Get a colourful account of Lord Krishna's playful persona and Radha's romance in Woh Kisna hai.

Ismail Darbar's touch is evident, with abundant use of heavy arrangement and classical inputs.

 

You can count on Javed Akhtar to write something like Tu Itni Pagli Kyun Hai and yet give it a touch of class. The lively lyrics, however, do not help in making its weak notes sound any better.

 

Ustad Rashid Khan's rendering of the pensive and dramatic Kahe Uradi Mori Neend gives goose pimples. The beautiful piece compels you into imagining an eerie palace and desolate deserts. Watch out for this one!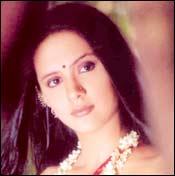 It's the time to get married, as the bride to be gets ready in her rich finery et al. That's what Wohi Din Aa Gaya, a chirpy, upbeat ditty with tons of old-world charm, is all about.
 'Jumman miya, woh mehfil hi kya, jis mein dilwalon ke saath, diljale na ho? Tum dil se dilwalon ke liye gaana. Diljalon ka khayal hum rakhenge,' says a sensual Sushmita Sen [in a special appearance in Kisna]. Pause. Then Hariharan and Alka Yagnik break the silence with the elaborately staged Chilman Uthegi Nahi.
Up next is Aham Brahmasmi. If Swades had Akhtar stating, 'Ram tere mann mein hai. Ram mere mann hai. Mann se jo Ravan nikalo, Ram uske mann mein hai.' Here, the essence is the same, only the gods differ: Mujhmein Shiv. Mujhmein Brahma. Mujhmein Vishnu. Mujhmein Krishna. Phir mein mandir kyon jaon?" Interesting!
A rush of blood, a gush of adrenalin -- the theme music of Kisna by Rahman is sheer intensity.
Looking for catchy music, the instantly attention grabbing kind? Then Kisna may not suit your senses. These songs are carefully crafted. A lot of thought and passion is projected through each track, creating a mesmerising effect. Appreciate it.