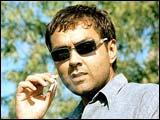 A man shoots 16 people in 16 reels and gets away scot free. Eventually, when he does get punished, he is sentenced for three years.
Don't you just love Hindi movies?
You could be excused for being sarcastic after watching Guddu Dhanoa's Kismat. On second thoughts, don't bother!
All of Dhanoa's action flicks -- like Ziddi and Salaakhen -- are consistent: they all reek of clichés. They defy logic too. There is nothing wrong in being illogical as long as it is unapologetic. Dhanoa's Ziddi clicked despite being unbelievably implausible because Sunny Deol could carry it off.
But in Kismat, Bobby Deol is unable to do a bade bhaiya (big brother).  
All it has going for it are five popular clichés.
Cliché # 1
Every time a wronged hero gets defensive, he pleads, "Koi bhi insaan ma ki pet se mujrim banke nahin nikalta (No man is born a criminal)."
Kismat adopts this philosophy as the basis of its plot and hero Tony's (Bobby Deol) character. After his parents die, young Tony is abandoned by his uncle and aunt in a train compartment. He bumps into a bunch of street kids who share his love for Amitabh Bachchan and his work in Deewar. Like Bachchan's character in this Yash Chopra classic, Tony and his cronies grow up on the wrong side of law.
Bobby plays Tony with streaked hair and the air of a schoolgoing spoilt brat who makes sure he gets whatever he wants. In due course, his misdeeds result in the persecution of his dream girl's (Priyanka Chopra) honest father Dr Gosain (Mohan Joshi).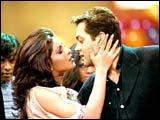 Cliché # 2
Action movies seldom have any scope for a heroine. She does her standard stage dance, dream dance, cabaret dance, mandir appearance, sobbing-screaming and, in the climax, comes rushing towards the triumphant hero (read Tony) to give him a prize hug. Priyanka Chopra's Sapna does just that. By the way, doesn't the former beauty queen have a proper dress designer? She probably doesn't. That explains her lack of wardrobe in the film.
Cliché # 3
Car chases are mandatory to action potboilers. Although nowadays, chases are passé, blowing cars apart is in (watch Dhanoa's earlier flicks). So action-director Abbas Ali Moghul's introduces stunts which require Bobby to trample, toss and turn every sleek Mitsubishi Lancer in sight. Oddly enough, you will either see him drive a swanky Opel Astra or walking. Another blooper: Priyanka Chopra plays a singing sensation with umpteen die hard fans. But post-interval, her popularity nosedives. She is shown travelling in a local cabbie and sits casually on Juhu Beach. Yet no one notices her.

Cliché # 4
In Ziddi, Sunny Deol's brother (Sachin Khedekar) is thrown off the terrace of a building. In Salaakhen, Deol's father (Anupam Kher) shoots himself in the head due to unbearable humiliation. Borrowing a little from both, a disgraced character in Kismat jumps off the terrace of a building. Dhanoa has now copyrighted this cliché.
Cliché # 5
Post-suicide, it is redemption time for Tony. He decides to sort the mess. Tony goes on a shooting and bashing spree in true Sunny Deol ishtyle. He nails the real bad guy, Raj Vallya (Kabir Bedi sleepwalking through the bad guy routine), who sells outdated vaccines. Tony drags Vallya to court.
So like in most action films, this one too ends in the courtroom, with the Judge uttering the father of all clichés, "Tamam sabuton aur gavahon ke bayanat sunne ke baad, adalat iss natije pe pahunchi hai. [The evidence and witness statement lead the jury to take this decision]."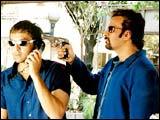 End of clichés. End of movie. End of bad luck.
CREDITS
Cast: Bobby Deol, Priyanka Chopra, Dr Mohan Joshi, Ashish Vidyarthi, Kabir Bedi, Smita Jaykar
Director: Guddu Dhanoa
Producer: Time Magnetics
Music: Anand Raj Anand
Lyrics: Dev Kohli
Dialogues: Dilip Shukla
Story & screenplay: Sutanu Gupta, Robin Bhatt