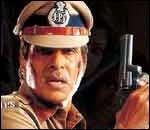 Cop dramas seem to bring out the best in any director, be it be Prakash Mehra (Zanjeer), Govind Nihalani (Ardh Satya), Prakash Jha (Gangaajal), and now, Rajkumar Santoshi (Khakee).
Khakee revolves around one mission spanning a few days. Yet it manages to offer a glimpse into the policeman's psyche.
Delving into the story might give away the excitement that will come while watching the film and seeing events unfold. Be ready for surprises, both pleasant and unpleasant.
Amitabh Bachchan has passed the stage where his performances can be called bad (except Boom, for which he
has already apologised). He is the only actor whose eyes still form the most intense close-ups on the silver screen.
| | |
| --- | --- |
| | More on Rediff: |
| | |
Akshay Kumar excels in a role that starts as an extension of "
Bachche ki jaan lega
," from
Mr & Mrs Khiladi
, but develops into one of the most natural characters.
Ajay Devgan as the main villain sleepwalks through the role of the suspended police officer. His acting suffers because of the shades he is made to wear throughout the film. Even though his eyes are not given a chance to speak, he is no less than Amitabh Bachchan when it comes to dialogue delivery.
Watch out for Aishwarya Rai. She is very fresh, very natural. Don't miss her interactions thinking they are unimportant.
Tusshar Kapoor is a surprise. His innocent looks give the character amazing depth. No wonder he replaced Akshaye Khanna for this role.
Atul Kulkarni is good but too much melodrama has been invested in him and actually hampers the film.
Full marks for the tight script penned by Rajkumar Santoshi and Shridhar Raghavan.
If only Santoshi had avoided the songs which decelerate the pace of the film. Perhaps his obsession with item songs will see a Maara re or Chamma chamma or Kaisa jaadoo in all his films. There was no point in having a poor reporter's son drinking at a dance bar.
Ideally, this should have been a songless film. Dooba dooba and Waada raha come out of nowhere into the narrative.
Overall, it is a gripping film. We can easily see nominations for Amitabh Bachchan and Akshay Kumar next year.
Keep it up, Rajkumar Santoshi. We will eagerly wait for your Prithviraj Chauhan. But we sincerely hope there will not be an item song in Prithviraj's court.