Corrupt system, frustration, media hounding -- you probably think Khakee is the same old story.
Yes it is. Just that old wine finally does taste better.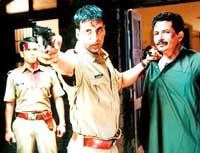 I am not going to spoil the plot by telling you more than what has already been written.  
Let me start with the editing. Merzin Tavaria should be given a lot of credit for keeping up the pace of the movie and thus keep you thinking. The songs, one of which is good and another foot-tapping, slow the pace of the movie. But, heck, even Sholay had weak music, barring Mehbooba Mehbooba and Yeh dosti.
Khakee is not as good, but it does portray the emotions of a frustrated officer (Amitabh Bachchan), who still thinks one should go by the book. Khakee shows the feelings of a husband and father (AB), who feels he was never part of their lives. It shows the intent of a freshly recruited cop (Tusshar Kapoor), who wants to be morally right and is always in a dilemma about expressing his dislike for his senior, not-so-clean officer (Akshay Kumar).
The movie is realistic and does not fall into stupid cliches.
Thank you, director Rajkumar Santoshi. You have given us a movie that actually portrays the lives of policemen in true light. They are honest. They are corrupt. They fear suspension. They fear death. They stage encounter killings and they shed a tear for a true Indian.
The movie has several plus points: direction, editing, acting. And, above all, its script.
| | |
| --- | --- |
| | More on Rediff: |
| | |
Some scenes to watch out for:
* Two scenes between Tanuja and Amitabh. If there is one person who matches Amitabh eye to eye in silent emoting, it is Tanuja. In one scene, she is helpless. Amitabh is moved but restrains himself. In another, she is angry. Amitabh is eager to tell her it is not his fault, but refrains, overcome by emotion.
* Amitabh talking to Jaya Prada while going through their family album. The man is magic.
* Amitabh asking a fellow police officers the duty of a policeman. His frustration at the system is so effective.
* Akshay Kumar's comedy. He never was a great actor and into controlled acting. But this once, he is natural and does an efficient job.
* Tushhar and the constable's wife. He does not have much of a role, but he has done well in the screen time he has. 
Minus points:
* Songs. Though decent and one of them actually good (Vada raha is quite hummable), they do not help the pace of the movie.
* I may be mistaken, but isn't a new case drawn if one is acquitted and another person found guilty? Isn't the verdict given only on the first person, not the second as well?
Finally, will this movie be a hit? The one thing that is easy these days is to gauge the mood of the public. While I was watching Khakee in the theatre, I did not see a single person sending SMSes around. And those who received calls on their mobiles around me cut them fast. Now that is something.