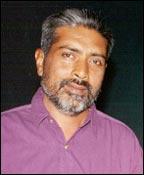 T
hey don't make men like that anymore. A quintessential anti-establishment man, Jayaprakash Narayan courted officialdom's wrath in life. Twenty-five years after his death, he has again made the powers that be uncomfortable.
Surely unintentional from the man this time around. The fact that babudom felt the need to gag some portions of Prakash Jha's tribute, Loknayak, to the man shows the immense capacity wielded by JP, as he was commonly referred to, to question injustice and take it head on.

As the last moral beacon from an era of principled politics and humanity above self, JP represented hope for millions who saw, and were disgusted, by authoritarianism and the politics of expediency.
From the point of view of a historical tribute, Loknayak spares no effort in sketching and fleshing out the man who shook the British establishment by taking on the mantle of leading the 1942 Quit India movement after all the top Congress leaders were put behind bars.


But here one must add that Jha's effort at showing JP as a disciple of Mahatma Gandhi shows. Jha's intention might have been to build credibility for JP. But was JP's credibility based on his closeness to Gandhi? Rather, will JP be less credible if he wasn't close to Gandhi? If I remember my history right, JP had several differences with Gandhi's philosophy behind the Quit India movement and was quite open about it.
Jha, though, must be complimented for bringing into focus the crucial role played by JP's wife, Prabhavati, in sustaining him and for being a counterpoint to his ideas. Prabhavati was deeply influenced by Gandhi and his wife Kasturba, spending several years in their ashram, and that shaped her worldview. A worldview which was often in sharp contrast to JP's.
As a contemporary tribute, the docu-film strides into that part of Indian history when India was considered to be Indira, and the Iron Lady made the mistake of taking the Indian democracy for granted. JP was the fulcrum around which all those who were opposed to the Emergency rallied to.
The strong moral fabric of the man was evident when the Janata Party, after storming to power, started deviating from the high moral path that JP had set for it. The perpetual rebel with a cause expressed his anguish from the hospital bed, saying if he had the strength to stand up, he would not let the government last even for a day.
As a cinematic tribute though, the film leaves a lot to be desired. According to some reports, the ministry of culture had given Prakash Jha Rs 9 million to make the film. If true, such a budget should have been more than sufficient to make a polished product.

When one thinks of tributes, Richard Attenborough's Gandhi or Jabbar Patel's Dr Balasaheb Ambedkar spring to mind as ready references. Sadly, Loknayak is nowhere near those tributes. A man who took on the British government and a deviant Indian State and came out trumps on both counts deserved better. Loknayak reminded me of those old Doordarshan serials where you could actually see the make-up, the wigs and the paint to show white hair.
Surely, Jha with his expertise and the money at disposal could have hired better talent. Speaking of talent, Chetan Anand (Jayaprakash Narayan) and Tisca Chopra (Prabhavati) sorely need a crash course in acting. Both were amateurish, and quite frankly could not encompass the greatness of JP and his wife.

Again, JP deserved far better -- as he did in real life.