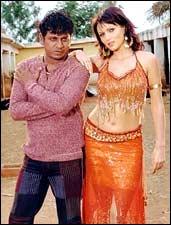 An unprecedented hype was generated before the release of Shivaraj Kumar starrer Jogi. The music for the Kannada film, released three months earlier, was already making news for its record sales. Much confidence was placed in director Prem, who had earlier delivered two big successes with his first two ventures. In fact, advance bookings for the first four days had closed five days before the release date, across the state!
And Jogi justifies the hype, at least for the fans. But, for a serious movie enthusiast, it might prove soporific. Maybe family audiences will enjoy the last thirty minutes of the
second half of the film, but is it necessary to keep the audience yawning till then?
Though the publicity material had suggested that the film is based on a story of an underworld operative, the story revolves around a sentimental bond between a mother and son in search of each other in the uncaring, unresponsive city of Bangalore.
| | |
| --- | --- |
| | Also Read |
| | |
The director has really paid a lot of attention to detail, and worked hard to create a good ambience as far as the village and underworld portions are concerned. But he should have worked on a tight script which could have engaged all classes of the audience throughout the film. He has focused more on emotional ties but this is not enough.

The storyline is thin, but the narrative elements have some great commercial value in the form of some well-choreographed song sequences and fights. Yet Jogi will be remembered more for the sentimental sequences than these 'item' sequences reserved for the fans.

The best part of the film is the last 20 minutes, which are totally gripping. The first half has more entertaining values like songs and dances which are well  choreographed. Audiences may feel cheated at the lack of action sequences. This might disappoint the ardent fans of Shivaraj Kumar.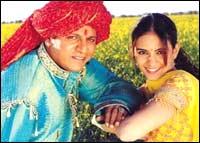 But Prem has done every thing to offset this disappointment by extracting very good music from Guru Kiran, and the best from his dance directors. Not to mention a great item song featuring model Yana Gupta. The three best-choreographed songs are Ello Jogappa Nin Aramane, Chukku bukku railu and the cheekily named songs Bin Ladennu nan maava and Bill Clintonnu nan bhava.
Some sequences were totally unnecessary, and the first half of the film could have been edited better. Even in the second half, the film picks up its tempo only during the very end. 
This is a big budget, masala blockbuster, and fans won't be disappointed.