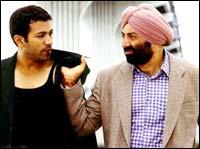 Sunny Deol movies generally work -- if not in multiplex theatres, it works in Punjab, and the B and C centres. He has a huge fan following. Maybe that's why the theatre I walked into screening his new movie, Jo Bole So Nihaal, was almost house full!
But I could not join in the fans' enthusiam after watching the film and Sunny's performance.
Sunny Paaji, I think it's time you started thinking about your career seriously and stop doing B and C grade films.
Yu ki ab toh audience theatre vich aandi hai par kuch dino baad tusi pachtavange (the crowds may come to the theatres initially, but after a while, you will regret dwindling audiences).
Is this the same Sunny who gave great performances in Betaab, Arjun, Ghataak and Zor and won National Awards for his exceptional performances in Ghayaal and Damini.
Woh Sunny Paaji kethe hai (Where is that Sunny?). We want him back!
There is nothing in the movie, which will hold the audience's attention.
Every time Sunny touches Susan (Shilpi Mudgal) in the movie, his grandmother in India gets fits! Completely tasteless comedy!
Sunny plays the title character Nihaal Singh, a policeman, and who accidentally sets a terrorist, Romeo (Kamaal Khan), free. The entire village lables him a gaddaar (traitor). To make things worse, the terrorist's mission is to bump off the Prisident of the United States!
So now, the FBI (or according to Sunny paaji, Fully Bewakoof Insaan) is after him as well.
Nihaal urges his senior officers to send him to the US to nab Romeo and bring him to India.
Of course, Romeo is a terrorist with a difference. He's a God-fearing man, who goes to church every Sunday for confessions!
The music is poor. And Sunny's loud performance only makes the film worse.