Jaane Bhi Do Yaaro is one of the best and most uncompromised films of Indian cinema, says Sukanya Verma.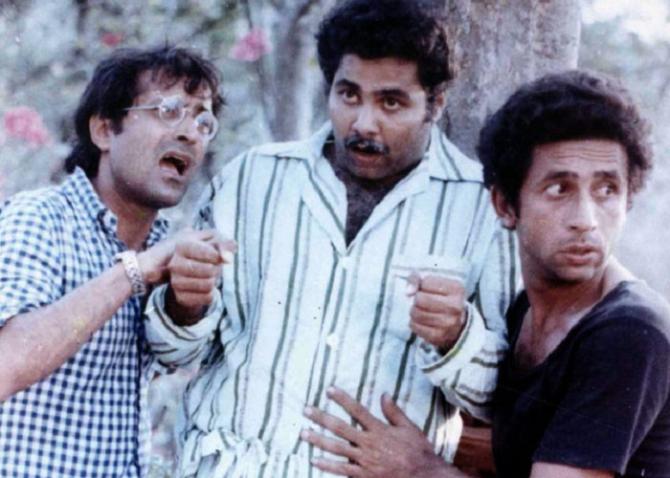 IMAGE: Ravi Baswani, Satish Shah and Naseeruddin Shah in Jaane Bhi Do Yaaro
Recently, during a movies' chat on Rediff.com's ZaraBol, a reader asked me if I've ever awarded a film with a five-star rating. And I told him, 'No, 4.5 is my maximum so far.' The same guy then asked me if I had to pick a film I'd give 5 stars which one would it be?
'Jaane Bhi Do Yaaro,' I replied without even a moment's hesitation.
Jaane Bhi Do Yaaro is one of the best and most uncompromising films of Indian cinema. And as is the case with most great things, it wasn't designed for eminence. A first-time filmmaker and his young, exceptionally gifted crew were merely trying to make a 'mad' movie they believed in with whatever resources available to them.
Although the satire explores the escapades of innocent virtue against greed and power in an unbelievably comic tone, JBDY never loses its purpose. And that is why, despite featuring one of the funniest sequences in movie history, it also ends on a stark, uncomfortably real note.
There's nothing more beautiful than a film that evokes the passion to devour and defend it with all your conviction. And I love JBDY enough to despise someone who doesn't. Because anyone who cannot appreciate the rare blend of spontaneity and excellence cannot be any good.
To our good fortune, the film reopened in select theatres with a digitally restored print. In a day and age when everything is overpriced and underwhelming and corruption's ugly head has only gotten bigger, Jaane Bhi Do Yaaro is worth its price in gold. So go on, book you ticket, NOW.
Meanwhile, here's an updated reproduction of a gushy piece I wrote earlier, in 2004:
Two enthusiastic youngsters set up a photo studio in Mumbai.
At the shop's opening, they wait for guests and potential customers with a catchphrase: Is shaher ke sabse beautiful Beauty Studio ke 50 per cent malik Vinod-Sudhir aapka swagat karte hain (Vinod-Sudhir, owners of the most beautiful Beauty Studio in town welcome you), and a table full of samosas, ladoos, gulab jamuns and beer bottles.
Their excitement is short-lived. The appetising table is mercilessly vandalised.
But nothing and I mean nothing, tramples the spirit of Sudhir Mishra (Ravi Baswani) and Vinod Chopra (Naseeruddin Shah). Idealistic like a Moral Science textbook, they believe Hum honge kamyaab ek din (We shall overcome some day).
I am talking about Jaane Bhi Do Yaaro, a small NFDC film created by a bunch of enthusiasts with all that they had in terms of creativity and resources. Made at a shoestring budget of roughly Rs 7 lakh, Jaane Bhi Do Yaaro is no blockbuster, but makes a significant contribution to cinema, like any good film ought to.
Somehow, I can't resist drawing a parallel with a line from the The Lord of The Rings -- The Fellowship of The Ring by J R R Tolkein. In one of the chapters, elf queen Galadriel comforts hobbit Frodo Baggins by saying, 'Even the smallest person can change the course of future.'
Isn't this precisely what Jaane Bhi Do Yaaro did?
Irrespective of its commercial fate, it is a universal hit that broke the distinction between art and commercial cinema and is unanimously loved by one and all. What an achievement it is to appeal to all kinds of mindsets. Director Kundan Shah and his cast/crew manage to do just that.
Twenty-nine years down the line, all the rank newcomers and aspirants have proved their worth in ways no one imagined back then. The opening credits, headlined by numerous National-award winners, make for fascinating trivia.
Look at the cast: Naseeruddin Shah and Om Puri are acting legends having worked in a wide variety of Indian and International cinema.
Satish Kaushik (who also co-wrote the dialogues with Ranjit Kapoor) has turned into a full-fledged masala filmmaker.
Neena Gupta donned the director's mantle for small screen.
After a stint in direction, Pankaj Kapur, regarded as one of the most exciting actors of this time, awaits the release of Matru Ki Bijlee Ka Mandola.
Satish Shah continues to be one of the most effortless comedians of all times.
The crew is not far behind.
Sudhir Mishra who assisted Kundan Shan on the film as well as co-wrote the story and screenplay has made critically-acclaimed fare like Hazaaron Khwaishein Aisi and Yeh Saali Zindagi.
Vidhu Vinod Chopra, who worked as the production controller on JBDY and appeared in a brief cameo as Dushaasan is today one of India's leading filmmakers with the highest grossing Bollywood film ever, 3 Idiots to his credit.
Top names like Binod Pradhan and the late Renu Saluja are the aces behind the film's keen cinematography and slick editing.
Another bit of trivia (of course, the whole world and its mother knows this by now) is that the names of the lead characters -- Vinod Chopra and Sudhir Mishra -- are derived from the above-mentioned personalities.
Jaane Bhi Do Yaaro is a comedy unlike any with its deliciously rich and sharp humour. Yet you cannot ignore the undercurrent of sarcasm in a subject that mocks prevalent corruption.
This is how it all begins: two photographers -- Vinod and Sudhir set out to make an honest living only to be manipulated by Shobha (Bhakti Barve), the shrewd and hypocrite editor of Khabardar newspaper. Her objective is to blackmail the ruthlessly ambitious builder Tarneja (Pankaj Kapur).
The ever-smiling Tarneja believes everything is fair in business: Business ka ek hi matlab hota hai. Doosre ka nuksaan aur apna fayda (In business, the only thing that matters: another's loss and one's own gain). Legalities mean nothing to him: Kanoon aam aadmi ke liye hai. Tarneja ke liye nahi (The law is for commoners, not for Tarneja). He doesn't fancy the fourth estate either. In logon ko Bengal ki khadi ya Arab saagar mein dubon dena chahiye (The press should be dumped in Bay of Bengal or Arabian Sea), he scoffs.
Tarneja and his sidekicks -- Ashok (Satish Kaushik) and Priya (Neena Gupta) -- bribe the greedy Commissioner D'Mello (Satish Shah) with cash, estate and Swiss choco cake to get their tenders passed leading up to the unforgettable 'Thoda khao, thoda pheko' moment.
The other candidate vying for D'Mello's attention is Ahuja (Om Puri). No less creepy than Tarneja, the perpetually drunk Ahuja baits the Commissioner with more money. The latter is more than willing to comply. Tarneja learns of this deceit and bumps off D'Mello. Meanwhile, Vinod and Sudhir accidentally discover a picture that shows Tarneja murdering someone. The duo uncovers the dead body. It's D'Mello. But this is no ordinary dead body. This one's got a knack of getting away. In a hilarious encounter with an inebriated Ahuja, D'Mello finds his way into Ahuja's guesthouse.
After a series of confusions, goof-ups and eye-openers, Vinod and Sudhir resolve to take the dead body and hand it over to the police. But D'Mello is chased relentlessly in burkhas and Mahabharata costumes by Tarneja, Ahuja and Shobhaji, followed by a grand finale during an on-going stage recital of the mythological epic.
I remember the iconic Mahabharata sequence verbatim and I am quite sure so do many of you. Truth be told, I have lost count of the number of times I've watched this 10-11 minutes of awesomeness over and over again. Just recollecting these classic one-liners is enough to tickle the funny bone:
* Shaant gadadhari Bheem shaant.
* Nahi, Draupadi jaisi Sati nari ko dekhkar maine cheer haran ka idea drop kar diya hai. Jai ho, aisi Sati nari ki jai ho.
* Yeh sab kya ho raha hai?
* Bhaiya, yeh aap keh rahein hai? (drastic change of tone) Abbe sale, kehde cheer harne ko.
* Draupadi tere akele ki nahi hai. Hum sab shareholder hain.
* Magar bade bhai ke vachchan ki aagya ka palan karna hi padega
Ahuja: Kyun?
Abbe natak main aisa likha hai.
Ahuja: Palan to humne kabhi apne baap ki aagya ka nahi kiya. Tu cheez kya hai?
* Dhanush tod diya. Teen rupaye ka nuksaan kar diya. Main nahi karta natak watak. Bhaad mein jao tum sab.
* Nalayak, adharmi, durachari, vamachari, bhrasthachari, bol sorry! Apne sasur ko nahi pehchante? Main hoon Draupadi ka baap, Dhrupad.
* This is too much. Yeh Akbar kahan se aa gaya?
Like I said earlier, Jaane Bhi Do Yaaro doesn't end on a happy or hopeful note. Yet it leaves that goofy smile on your face. Perhaps it's the lingering imagery of D'Mello's fictional funeral or how the Natak Company eventually got over that fateful day when their play was disrupted by a bunch of loony photographers, industrialists, their entourage of secretaries, journalists, cops and a doozy dead body. Whatever it is, JBDY packs in laughs galore.
Here's a recap:
-Tarneja, Ashok and Priya locked in D'Mello's bathroom (Ashok, Ashok switch dhoondo. Sir yeh meri naak hai).
-The 'time' bomb failing to blast on 'time' (Sir, bomb phat gaya!).
- Vinod and Sudhir looking for the dead body in Antonioni park (Vinod, chal ghar chalte hain!).
- Commissioner Shrivastava's 'gutter' speech in the memory of the deceased D'mello. (Kisi desh ki unati ki pehchan agar kisi cheez se hoti hai toh woh hai gutter. Woh gutter ke liye jiye. Aur gutter ke liye mare. Marte hue unke aakhri shabd the gutter).
- Ashok and Vinod's hush-hush telephonic conversation (Code kya hai? Albert Pinto ko gussa kyun aata hai?).
- Ahuja trying to make conversation with the dead D'Mello.
- The Mahabharata fiasco.
There's not a single song in JBDY. But Vanraj Bhatia's brilliant background score moves in perfect rhythm with the movement and mood of the plot. The zingy, mysterious loop of beats conveys the duo's adventure while a gentle violin hints a possible romance between Vinod and Shobhaji.
Another interesting aspect of the film is Mumbai (then Bombay), a city full of conflicting, colourful personalities with diverse morals and ethics. Tarneja, Ahuja, Ashok, Priya, D'Mello and Shobhaji represent these vivid hues through their distinct characteristics. The middle class man who just wants his daily bread (read banana in JBDY's case) through honest means and possesses an undying respect for life is aptly portrayed by Vinod and Sudhir.
Jaane Bhi Do Yaaro has a dream cast high on masterful performances and pitch-perfect comic timing.
Naseeruddin Shah and the late Ravi Baswani share an amazing vibe and comfortable chemistry.
More gratification comes in Pankaj Kapur's casually dishonest conviction, Satish Shah's deadpan for a good part of the film, Bhakti Barve's icy cool, sly disposition, Om Puri's flawless flamboyance, Satish Kaushik's amusing ineptness and Neena Gupta's every-girl glamour.
Kundan Shah's debut film became the Sholay of his career. Like Ramesh Sippy, Shah could never better Jaane Bhi Do Yaaro. His Kabhi Haan Kabhi Naa had the old touch but it wasn't the same. Nearly three decades since its release, JBDY is still topical. Corruption persists and the common man still gets taken for a ride.
This story was first published in November 2012.