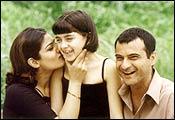 When a filmmaker tackles a disturbing issue like rape, his attempt should be applauded. Usually.
But when he makes a mockery out of it, you would rather he not have touched the subject at all.
Mehul Kumar's Jaago is a case in point. It was inspired by the real-life incident when an inebriated man raped a mentally challenged minor girl in a local train in Mumbai. Five other passengers were mute witnesses to this atrocity.
In the film, the girl is a nine-year-old schoolgirl. There are three rapists and three witnesses. Shrikant (Sanjay Kapoor) and Shradha Verma's (Raveena Tandon) daughter Shruti (Hansika Motwani) commutes in a local train to school.
One day after dance rehearsals, Shruti is accidentally locked in the school hall. By the time the school's lone watchman discovers this, it is midnight. Instead of taking the child home or at least calling her parents to pick her up, he drops her at the nearby railway station.
That is stupid. A well-to-do school, such as we are shown Shruti's to be, has only one helper? Even a small-scale municipality school has more helpers than that. Also, the teacher in charge of the rehearsals just disappears. Shouldn't it be her responsibility to make sure the children have left the school premises safely?
Shruti takes the 12:57 local from Bandra. She tries to call home, but get a 'busy' signal on the phone. Normally, a parent would have gone insane with worry and would have reached the school by that time. But all Shruti's parents do is worry and make a few futile calls. Anyway, she gets into an almost empty ladies compartment. Three drugged adolescent losers enter the compartment and rape her.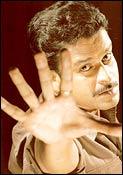 The manner in which this scene is shot disturbs, terrifies and angers you a great deal. 
Shruti lands in hospital. The trauma, pain and injury result in her death.
Crime branch officer Kripa Shankar Thakur (Manoj Bajpai), who is handling this case, comes up with a ridiculous plan to nail the rapists. Shradha is asked to dress up provocatively and walk about the railway platforms to attract the culprits.
In reality, the witnesses (including a journalist) were reviled for their cowardice. In the film, their behaviour is conveniently justified with a lame excuse: we have no faith in the police!  
Meanwhile, by some unimaginable quirk of fate, Shraddha and Shrikant end up in jail as well. Moreover, their case is fought in the same courtroom along with that of the rapists.
A vague subplot has Puru Raaj Kumar playing underworld don Elias Ansari, who operates from a prison cell. Somehow (don't ask how) he becomes instrumental in winning justice for Shruti.
Since Jaago is based on a real incident, the solution and situations are too convenient, superficial and unrealistic.
Despite her half-baked character, Raveena Tandon is every bit the angry mother she ought to be for this film. Sanjay Kapoor doesn't have the maturity to convey the distress of a mourning father. Manoj Bajpai delivers as the self-assured cop who gets to mouth clever punchlines. Child artist Hansika Motwani, who also played one of Hrithik Roshan's kid buddies in Koi... Mil Gaya, plays her part spontaneously.
The songless effort starts off decently enough, but post-rape, Jaago slips. What should have been a serious film becomes a farcical exercise in movie making.
Mehul Kumar might have made the hard-hitting Krantiveer with conviction, but he clearly lacks the sensitivity and sensibility to tackle such delicate topics.
CREDITS
Cast: Sanjay Kapoor, Raveena Tandon, Manoj Bajpai, Puru Raaj Kumar, Baby Hansika Motwani
Producer-Director: Mehul Kumar
Writer: K K Singh
Cinematography: Mahendra Rayan
Editor: Yusuf Sheikh