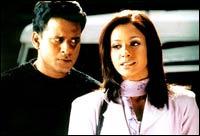 Pankuj Parasher
's latest film
Inteqam
is a thriller involving three main characters, played by
Manoj Bajpai
, Ishaa Koppikar and Nethra Raghuraman.
Murder mystery writer Avantika Suryavanshi (Koppikar) comes to Mumbai to write about the Indian police force, centering her story on Assistant Commissioner of Police Uday Thakur (Bajpai), an encounter specialist whose aggression has led to his transfer to the detection squad.
Soon, Avantika's friend is killed at a party in the same manner as written in her novel. Thakur is assigned to the case, along with sub-inspector Pandey (Sharat Saxena) and psychiatrist Mahek (Nethra Raghuraman).
Later, a series of murders takes place, just as in Avantika's novel. Each murder has a sinister connection with the writer. She obviously becomes the prime suspect.
Bajpai had once said that in Inteqam, he did what some heroines usually do -- look good and wear stunning outfits -- while leading ladies Koppikar and Raghuraman did all the acting. He also claimed that he signed the film without reading the script because he wanted to work with Parasher.
Is this akin to anticipatory bail from Bajpai that if the movie doesn't work, he can say he didn't know the script?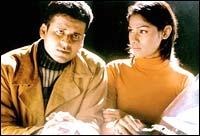 True to his words, Bajpai does not have much to do, despite being in the detection squad. But he plays his part well.
Koppikar, with the meatiest role, does not turn in a good performance, though she does improve towards the end. Her dialogue delivery is offputting, in the way she says toh each time she is interrogated.
Raghuraman treats both the police and the prisoners,and Thakur is one of her patients. She doesn't have a big role in the film and makes her dialogues sound so boring that you feel she is thinking and talking at the same time. She, too, improves towards the end.
Sharat Saxena is the only humorous element, and does well.
Inteqam
has a slow start, as the director spends unnecessary screen time on developing Bajpai's character as an aggressive cop. Too many songs kill the suspense. Besides, I can't help wondering how after the first and second murders, which happen exactly as described in Avantika's novel, why were the police not prepared for the later murders?
CREDITS

Cast
: Manoj Bajpai, Isha Koppikar, Nethra Raghuraman, Sharat Saxena and Sushmita Mukherjee
Director:
Pankuj Parasher
Music
: Anand-Milind