The younger cop moonlights as a yoga teacher but has his eyes firmly set on Hollywood's casting directors; he hopes to be the next Marlon Brando. The financially pressed older cop is in the plush real estate business, hoping to earn a big commission that will help him settle his debts. Life doesn't seem too complicated for these two LA cops, but when they are teamed together to investigate a gangland-style murder of rap artistes, the movie Hollywood Homicide changes tracks.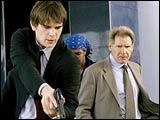 The high profile film, starring Harrison Ford as the irascible older cop and Josh Hartnett as his younger buddy, has many fine comedic moments. Unfortunately, its subplots and the disappointing climax prevent Hollywood Homicide from offering viewers a smooth ride. The film, shot mostly on LA streets and in high-priced neighbouring cities such as Malibu and Venice by cinematographer Barry Peterson, offers a lot of local street colour --- reminiscent of the flavour Shelton had packed into his earlier hit, White Men Can't Jump.    

The movie is amusing when Joe Gavilan (Ford) has to deal with his real estate clients while he is in the middle of a high-speed chase and K C Calden (Hartnett) has to set up a show of A Streetcar Named Desire or rush off to his yoga classes in the middle of the investigation.

But the proceedings begin to weigh down when the film deals with the awful internal affairs investigator, Bennie Macko (Bruce Greenwood), a vindictive man obsessed with getting Gavilan into trouble. Bennie also happens to be the ex-mate of Joe's current lover, radio psychic Ruby (Lena Olin), and his jealousy makes the situation worse for Ruby and Gavilan. 

Though some of the secondary roles irritate, Lou Diamond Phillips in full drag is thoroughly engrossing. So is Olin.

Just the other day, director Ron Shelton was in the theatres with Dark Blue, the story of an idealistic police officer's descent into hell set against the backdrop of the Los Angeles riots. That widely uneven film, a big box office casualty that nevertheless had a good performance by Kurt Russell as a corrupt police office, earned barely $5 million.

Hollywood Homicide, which is also set in Los Angeles will do far better business, thanks to an engaging (for most part) Harrison Ford and younger audiences' fondness for Josh Hartnett (Pearl Harbour, Black Hawk Down). But Shelton is not consistent: though he makes Ford look and sound more interesting than in such bombs as K-19, the director has not helped the star handle broad comedy well. Ford's face also looks haggard in many scenes. You feel as if parts of the film were shot in another age.

A major weakness in Hollywood Homicide is that it does not create an electrifying chemistry between the two cops.  

Ford's last film K-19 The Widowmaker, the Russian submarine drama that cost nearly $100 million, was torpedoed in its opening weekend and made less than $30 million.

But his new film, in which he is far more interesting than in many of his recent films, should appeal to thousands who want to see an entertainment that does not overwhelm them with sci-fi effects. 
CREDITS
Cast: Harrison Ford, Josh Hartnett, Lena Olin, Bruce Greenwood, Isaiah Washington, Lolita Davidovich, Dwight Yoakam, Martin Landau, Lou Diamond Phillips
Producer: Columbia Pictures
Director: Ron Shelton
Script: Ron Shelton, Robert Souza
Rating: PG-13