October is a good time of the year. For Chetan Bhagat, in particular. Around this time in 2005, he released his second novel, One Night @ A Call Centre. And as its turns out, it's that month of the year again, when the soft-spoken author is out with its big screen version, Hello, where he's credited for the story, screenplay and dialogues.
Its urban premise circled around the call centre milieu, about six distinctive individuals, caught in a moment of divine intervention was a hot-selling success, a topic of widespread blog discussions and arguably the longest toast in the season of Indian fiction in English.
Now I haven't read the book, not all of it anyway, but I was most curious about its cinematic adaptation. For one, it's a healthy trend, in my opinion. Rather than steal scripts from outsourced DVDs, it is far more exciting and challenging for a filmmaker to interpret someone else's free-flowing, published imagination while giving it a sprinkling of his own personality without tampering the original source.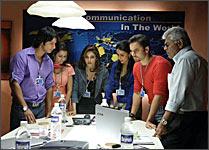 Director Atul Agnihotri is certainly no pioneer of this movement.
Previously too, filmmakers like Bimal Roy, Vijay Anand, Pamela Rooks, Dr Chandraprakash Dwivedi, Mira Nair and Dev Benegal, to name a few, have revisited classics like Sarat Chandra Chattopadhyay's Devdas,  R K Narayan's The Guide, Khushwant Singh's Train to Pakistan , Amrita Pritam's Pinjar, Jhumpa Lahiri's The Namesake and Upamanyu Chatterjee's English August respectively, for celluloid inspiration.
What distinguishes the former IITian from the afore-mentioned luminaries is his everyman sensibility and fancy-free penmanship.
Sadly, this is the one thing Agnihotri doesn't fully convey in his second directorial venture since -- Dil Ne Jise Apna Kaha. Obviously, he's a great fan of the book, but the chemistry between him and writer doesn't translate into a memorable movie.  
Having said that, Hello isn't half bad. It's just a tad too filmi. I would have gone with surreal what with God playing an important kahani mein twist and all.
For one, what's with the wardrobe, guys? Leopard print leggings, micro minis, patch-work jeans, camisole-revealing shirts, it's got Bollywood wannabe written all over it.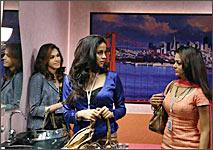 Again, take a look at this guy Shyam (Sharman Joshi). One minute he's all kicked about starting life on a refreshing, new note, even rejecting the object of his constant fascination (Gul Panag) when she promptly goes down on her knee to propose, taking off one of her diamond earring to do the needful. After she storms out in humiliation, Mr Indecisive goes crazy in her re-pursuit and rewinds to the exact scene only their roles have been reversed. It's corny, really.
Sharman and Gul Panag, as his pragmatic, cleavage-flaunting girl friend bag meaty footage in Hello's 14-reeled proceedings, which mostly go off at a dull call-centre.
Co-stars Amrita Arora and Isha Koppikar aren't so lucky.They provide the proverbial 'betrayed' or 'guilt-harbouring' soppy albeit pretty looking angles to this one-night plot, narrated by Katrina Kaif, in a voice that suspiciously doesn't sound anything like her own, to a bored Salman Khan (playing himself).
What really transpires is, one day; God feels the need to brush up his PR skills. So he sends a pretty messenger to do the needful. He arranges her to meet Salman, wherein she'll tell the star a fascinating account of six call-centre employees-in-crisis with God; in return he'll have to make a movie about the same.
And so you have the actor making a smashing Bollywood entry, which involves a swanky chopper and a shirtless on-stage performance. Besides showing off the well-preserved buff, he essays the celebrity listener with disarming wit and calm curiosity.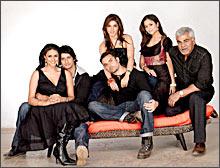 Brother Sohail Khan, who plays one of the key players in Hello, is a wonderful contrast though. Burly and boisterous, Sohail's Vroom is as racy as his pet name. His is one of the best-written, most real and fluently funny parts in the movie.
Whether he goes on an US-bashing spree (there's plenty of it. Hello insists an average 34-year-old American's brain is equal to that of a 10-year-old Indian), makes a light joke on the Indian advertising scene (something to the effect of Woh dekh kapde dhone ke baad kitni khush lag rahi hai pointing at a girl-in-a-detergent-ad or how so-called youth icons promote Cola drinks, which are known to contain harmful substances) or samples one of his spontaneous one-liners on his colleagues.
Ideally, Agnihotri could have rendered a tongue-in-cheek treatment to all of Hello. As it is, the novel/film contains enough incredulity to introduce some more. Oddly though, the crucial God-converses-with-mortals sequence is perhaps the most tepidly picturised episode in the movie. It has neither the requisite awe nor otherworldly appeal to magnify its life-altering impact.
Also, there's no place for Sajid-Wajid's raucous soundtrack in the screenplay. Anytime a song pops up, it is such a tormenting imposition. Ditto for Dilip Tahil's over-the-top greedy boss act, a poor cousin of his performance in Hum Hain Rahi Pyaar Ke. Fellow veteran, Sharat Saxena as Military Uncle is, thankfully, restrained and doesn't shriek his lungs out.
Hello's biggest brownie-earning factor is its stock of humour. (That is when the actors aren't helping out their dumb overseas clients over the phone in laboured accents.) It's deftly casual and effectively tickling. Like when a systems' guy nonchalantly remarks, 'Tumhari problem God fix kar sakta hai ya Rajnikant (Only God or Rajnikant can help you) or the hilarious foreplay between Sharman and Gul before they decide to go all the way. These two click well as a pair. Sharman is earthy and endearing to Gul's fiery mix of sensuality and intelligence. And that is that.
Whether the film works or not, Chetan Bhagat is most likely to benefit.Those who have read the book may like to see the film out of sheer curiosity.Those who have seen Hello might want to read the book to compare notes. I know what I am going to do.
Rediff Rating: