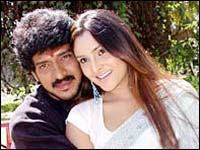 This film will surprise Kannada filmgoers. Used to watching dud after dud every week, they're now suddenly getting some well-made cinema. Gowramma, directed by Naganna and starring Upendra and Ramya, is a welcome addition to a growing list of extremely good and watchable films. This list would include films like Aham Premasmi, Akash and Varsha - all released recently to critical praise, and still running well in theatres.
Uncharacteristic to Upendra's typically hero-dominated films, Gowramma is a heroine-themed film, as is evident from her name in the film's title. Also, despite having the same producer and director from the action packed hit Kutumba, Gowramma does not have a single fight sequence! Diehard Upendra fans will also be let down by the film's dialogues, which are down to earth, not theatrical.
The film's narrative, however, will appeal to all, because the script races constantly throughout the film, maintaining its strength with sharp consistency. It will often provoke audiences into laughter, while touching a decidedly poignant chord in some sequences.
Gowramma is a remake of Telugu hit, Nuvvu Naaku Nachchav. In Vijaya Bhaskar's original, the dialogues were the strong point of the film. Here, the same strength is further enhanced by Upendra, and his superior dialogue delivery.
The movie is about a young girl, Gowramma. Having finished her graduation, she is engaged to a US-based NRI. Venky is a boy from a small town, who comes to the city in pursuit of computer education. His and Gowramma's fathers are childhood friends, but Gowramma and her father look upon Venky as a wastrel.
Still, this doesn't deter our hero. With his positive attitude and exuberant love of life, he keeps people around him constantly in splits, and seems to have an answer to any problem. Eventually, Gowramma is drawn to Venky and falls for him.
And herein lies the dilemma. Venky staunchly feels it is wrong to love someone who is already engaged, and stoically spurns the girl. What Gowramma does next, and how the story unfolds after this twist is what makes the film engaging.
There is a regular focus on comedy throughout the film, and several sequences will inspire you to laugh out loud. An extremely competent cast -- Komal, Doddanna, Sadhu Kokila -- make the comic lines come alive. But the film must be credited essentially to Upendra. He handles both hilarious and emotional scenes with equal aplomb, and proves his worth as a star.
Naganna has directed the movie well, and even the bit roles plus little details have been worked out efficiently. If this film does well, it will be a well-deserved third successive hit for his collaboration with Upendra. Music director S A Raj Kumar has come out with three catchy songs, out of which Kolthaalallappo, Kolthaalallappo is the highlight of the film. 
Gowramma is an impressively enjoyable film, and a heavily recommended watch.