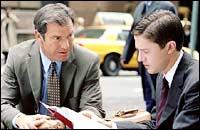 A terrific cast, led by veteran Dennis Quaid and the young Topher Grace and Scarlett Johansson, brings plenty of vigour to this engaging and often amusing film, about corporate intrigue and backstabbing, globalisation and the plight of older corporate executives. But the movie loses quite a bit of its bite and social criticism when romance intrudes. And its final confrontations descend into too much melodrama.
Directed by Paul Weitz (co-director of American Pie, About a Boy), the low budget In Good Company has been playing in a handful of theaters for two weeks. This week, it goes wide to some 1,500 theaters.
Fifty-plus Dan Foreman (Quaid), head of ad sales for a national sports magazine, finds himself not only demoted, but also answerable to Carter Duryea (Grace), nearly half his age. Dan's problems begin when the magazine is taken over by a mega corporation.
Father to two teen daughters, Dan can't give up his job, especially since his wife (Marg Helgenberger) has announced they are going to have their third child. Despite the unexpected news from home and the desperate need to keep his job, Dan can't hide his contempt for his boyish boss. At least for a few days.
But Carter isn't really a bully without redemption. Though he cannot get to like Dan immediately, we suspect that the two men will not remain antagonistic to each other for long.
Weitz doesn't lose much time in taking the audience behind the façade of Carter's charmed existence. We see that the man who talks about corporate synergy with enthusiasm has failed to save his seven-month marriage to Kimberly (Selma Blair). And is so pathetically lonely, he almost begs young women to go out with him.
As the animosity between Carter and Dan thaws, the young boss turns up for dinner at Dan's house. Soon, unknown to Dan, his daughter (Johansson) and Carter begin a relationship.
Carter finds himself in an awkward position as he becomes conscious of the problems Dan could face because of the new corporate maneuvers. The movie's focus now starts changing, though it hasn't given up looking at deceptions and tricks within the company. But the games Carter has to play are more related to his new romantic relationship.
While In Good Company becomes verbose from time to time, it also has many understated situations. Watch for the scenes in which the underutilised actor David Paymer spits on corporate culture using just a few words. Paymer is among the many minor players in the film (including Philip Baker Hall, playing an old-fashioned businessman), who give vivid performances to turn the film into an above-average Hollywood drama.
Grace, whose previous film ps was a resounding flop despite many interesting performances, gives a full-bodied performance. He has to be funny, romantic and rueful in quick succession and he does so effortlessly. But his big clash with the corporate honcho (Malcolm McDowell) is a bit loud, and contrived. It is one of the many situations where the script needed extra work.
Though Johansson is charming, she is handicapped because her role doesn't have much to do. Quaid -- who, despite giving superb performances, doesn't have much box office clout -- is consistently admirable. Give him a challenging part, and he rises to it. Forget his recent thud Flight Of The Phoenix and spread the good word about the new film.