Once you are done paying your respect to God and Grasshoppers, you circle back to the human beings in Gold, and that's when things become progressively more and more muddled, observes Sreehari Nair.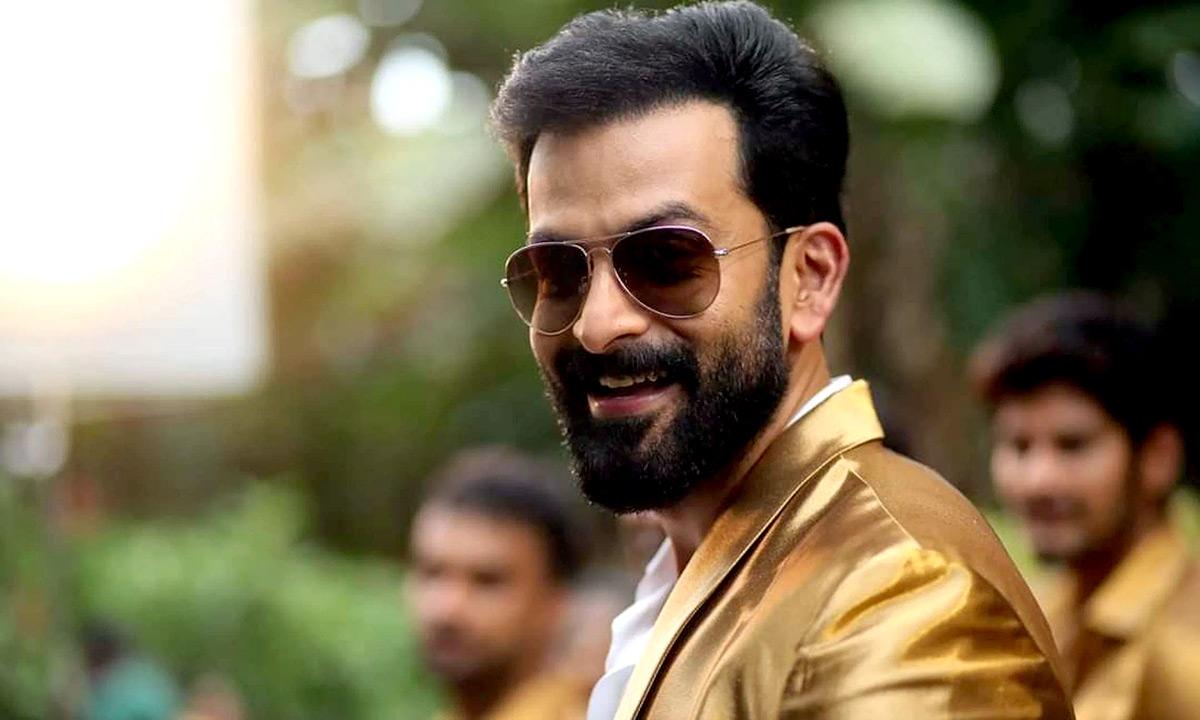 There's a saintly aspect to Director Alphonse Puthran, which is hard to miss if you have watched his interviews carefully.
He could have developed this saintliness into something substantial, but then he got wildly successful with Premam.
He could have made the most of his humongous success, but then he got sick.
Now, seven years after Premam, Puthran has come out with Gold, and though it has a grand vision as well as an intimate eye, and is the work of someone who defiantly does not wish to be seen as a sell-out, it is also a tired, confused, scraggly piece of work.
A crime caper that wants to challenge viewing presets but without offering any real payoffs is a rarity, and that's what Gold ultimately becomes.
Puthran has been taking pot shots at his critics since the release of his film because, as he sees it, they don't quite understand his struggles.
They were waiting for him to fail; they have been too quick to dismiss him.
Social media is a mean, abrasive place (despite all those posts about depression that get diligently circulated) and genuine meltdowns, such as Puthran's, were bound to be welcomed by snickers and titters.
I don't find the whippings that Puthran has been handed out funny, but I don't think Gold does the super-discerning viewer any service either. In fact, one cannot help but ask: Would it have been better had Puthran aimed for something a bit more immediately appealing?
Gold maps out an incident in the life of Joshi (Prithviraj, attempting to be all fidgety), who wakes up one morning in his house in Aluva and finds a dubious-looking pickup truck parked inside his courtyard: It comes about that the truck is filled with blocks of gold disguised as speakers.
And while you expect the plot of the movie to take off at this point, with a bunch of colourful stakeholders thrown into the mix, Puthran tries to grow it using small increments and painful little asides.
The big visual joke, for example, is provided by the winding entryway leading to Joshi's house, and the logistical difficulty it poses to policemen, small-time hoods and contentious businessmen trying to make their escape through the snaky path.
I am citing the winding entryway joke for a very specific reason: It is repeated over and over again, and takes up almost 20 minutes of the film's running time.
Then there are those cutaways to insects, amphibians, rodents etc.
As evidenced in Premam, this stylistic choice does hold some meaning for Puthran.
He wants to show us that 'time' is a shared entity, and although there's a plot unfurling in front of you, there are ants, squirrels and grasshoppers in the background minding their own business -- they must be heeded too.
As you can see, I was willing to go along with our saintly film-maker on such matters: I even took his totally random insertions of drone shots as intending to represent 'God's View of the story being told.'
But once you are done paying your respect to God and Grasshoppers, you circle back to the human beings in Gold, and that's when things become progressively more and more muddled.
The interactions between the people in this movie, almost all of them, seem improvised.
But here's the twinge: Those improvisations don't come out of anything solid; and everyone's practically walking on stilts.
Getting a series of whimsical characters to engage each other in banal talk after banal talk can produce interesting results, but only if you have conceived your characters from the ground up, if you are clued in to their crisscrossing motivations, if you have a clear idea of the emotional logic of the scenes, and if you have briefed the actors about all this.
In Gold, we watch a pack of paper cut-outs discuss mundane everyday issues, while our knowledge of the loot in the truck continuously festers.
Almost all the key scenes play off our curiosity this way, only to ride out on a whimper.
More often than not, a character might make the walk from Point A to Point B in slow motion, and then end up doing something as inane as fondling a sheet of tarpaulin.
Gold is 2 hours and 43 minutes long. Did it have to be that long?
I also have to mention some of the editing patterns, which, depending on your taste, may strike you as snazzy or plain bizarre.
For instance, one scene has Prithviraj's Joshi sitting across a table from a police inspector (the always-vibrant Baburaj) and Puthran suddenly switches to split-screen mode. They are sitting right across from each other, Alphonse! So why slot them in separate screens, why?
Later, during a scene of black money being transacted, the screen turns black and white.
Is this movie built up to be consumed as a parody of those feverishly edited movies?
Is Puthran sending Amal Neerad up?
You cannot tell because Puthran thanks Neerad in the title cards.
He also reserves a 'special thanks' for Time, Love and Gold (which, if you are wondering, is a quick recap of his filmography, a hat tip to himself, a play on the three movies he has directed thus far -- Neram, Premam and this one).
He is his own amusement, is Puthran.
It tickles him to call in a troupe of established names, some hot, some forgotten (among them, Premkumar, Sudheesh, Shanthi Krishna, Saiju Kurup, Vinay Forrt, Roshan Mathew, Soubin and Sai Kumar), at different points in the story, and get them to perform bit parts.
Puthran does not rein these actors in.
As a matter of fact, they have been asked to not break character, even in the event of their encountering a blooper.
And many of their honest mistakes, their wrong turns and their occasional flat-footedness, have been left untouched and there for you to sample.
If this movie has had a cutting-room floor, it must be a truly clean place.
The actors who share most of the workload, like Baburaj, Shammi Thilakan, Lalu Alex, Shabareesh Varma and Chemban Vinod Jose, come off as wonderful sports.
They set out to plug the holes in the script by mixing behavioural acting with complete commitment to such excesses as jumping over walls, wearing printed shirts that refute their innate mousiness, and letting gold chains twinkle confidently in their chest hairs.
Mallika Sukumaran creates something original out of a character, who is always setting herself up for a scene exit.
She plays Prithviraj's mother, and is a world unto herself.
Her postscripts have more bounce about them than do the actual proceedings.
One shot has her walking away from the camera, chuckling slightly, unaware of the tense moment she is caught up in, and it is probably the funniest bit in the movie.
As Joshi, a man trying to stay cool in the face of an unexpectedly gained treasure, Prithviraj scrapes through by perpetually channeling the beats of Mohanlal's iconic kerosene-borrowing scene from Nadodikkattu.
Nayanthara, back in Malayalam cinema after a fair gap, makes the confused look appear sexy. She brings to her nothing-part an easy wattage; though I think it was a bad idea to have her masked up in some of the scenes -- there, you badly miss the mole under her nose.
I believe Alphonse Puthran wanted Gold to also be his tribute to Aluva, and he labours to build an enclosing narrative about the region: In his vision, it is a melting pot of conmen and music bands, of dancers and hagglers, of the overdressed and the under-served.
But such ambitions are impaired by the fact that Puthran is no keen observer of life, or someone with an authentic inner voice.
This was quite obvious in Premam, where his lover boys and his college rowdies revealed themselves to be tricks from other movies, propped up by a romantic vision of the past and a music video sensibility.
The difference between his last film and his latest one is that this time he cannot find something in his life with which to attack the material. And so, whatever vitality there is in Gold feels forcefully dribbled in.
Premam was no big deal, but it was made by a man who derived a lot of his movie-making energy from his memories of those days and nights spent at community tea shops and college canteens, tapping on benches and singing nonsense poems.
Gold feels made by a once-exuberant soul who has not been stepping out, who has stopped meeting up with friends, who has started to live more and more inside his own head.
Gold streams on Amazon Prime Video.
Gold Review Rediff Rating: