Away from the multiplexes that dot metropolitan skylines, there is a trick small-town movie hall owners resort to. In between normal movies, they juxtapose 'hot' shots. The audience gets its dose of sleaze and the owners their dose of revenue. Sanjay S Zaveri's Fun… Can Be Dangerous Sometimes seems to be like that.
Natasha (Payal Rohatgi) is married to Aryan (Sidharth Koirala), a criminal lawyer. Looking to add zing to their sex lives, Natasha and her two friends Phalguni and Urmila decide to swap husbands on New Year's Eve.
They go to a beach resort, where there they meet Megha (Heena Rehman) and Raj Solanki (Aryan Vaid). They plan to 'celebrate' together but Aryan has to leave as his factory in Mumbai has caught fire. When he comes back, he finds Megha dead, and all proof pointing at him to be the murderer.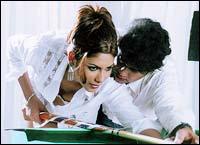 The movie starts with a song, and the first half is just about skin show. There is not even one gripping scene before the interval.

In the second half, there is a murder and it is solved. In effect, just the last half an hour of the movie is the 'story.' The

rest is a haphazard collage of scenes.

The less we talk about the actors' performances the better. In the beginning, you feel you are watching a television serial because all the actors stand in a line facing the camera.

It is Sidharth Koirala's first film, but unlike sister Manisha, he debuts in a lower budget C grade movie. B seems too high a grade for it. The only acting he does is keep a wooden expression fixed on his face.

Payal Rohatgi is loud. Heena Rehman, like the others, looks hot in her scenes. Rajat Bedi, who plays a police officer, is wasted in the movie. After Koi… Mil Gaya, he deserves better roles.

Dialogues are the worst part of the movie. I don't think anyone speaks like that in real life. On one hand, the movie tries to be 'bold' with a theme like husband-swapping, and on the other it has corny, behenji kind of dialogues.

The choreography is bad, and so are the songs. Actually, there isn't anything to watch but sleazy scenes.

And if you want to watch sleaze, I think those small-town movie halls give you a better option.