Those who loved the
Freddy Krueger
and
Friday the 13th
series in the 1980s will have a mildly exciting outing in the marriage of the two horror franchises,
Freddy Vs Jason.
A vastly different venture from a classy sci-fi horror film like
28 Days
which is still around on a few hundred screens, the new movie hopes to bring together the fans, mostly male, of the two franchises led by
Friday the 13th
and
A Nightmare on Elm Street
.
| | |
| --- | --- |
| | Hollywood horror on Rediff! |
| | |
Heavy on violence (no surprise here), overwhelming with bosoms and sexy young women and low on genuinely scary moments, the film doesn't spring a single surprise.
But thanks to its brisk pace it may not bore even those who have not seen the previous films in the two series.
Fans of the two series might have a few good laughs and some fun, and return home to watch the first films on video. Especially the one that started it all: 
Nightmare On Elm Street
, directed by Wes Craven in 1984. Craven also serves as one of the producers on the new film. 
Sensing the potential of a big opening for
Freddy Vs Jason
, distributor New Line Cinema is showing it on over 3,000 screens. It will be interesting to see whether the film will perform well beyond the expected big opening and win new teen fans in significant numbers to lead to another franchise.    
But if you are one of those movie fans who love intriguing and well-crafted supernaturals like
The Eye
,
The Ring
and particularly
28 Days
, stay away from this one. 
In the new avatar directed by Hong Kong veteran Ronny Wu (
Bride of Chucky) Bride
), bloodthirsty Elm Street dream stalker Freddy (Robert Englund), trapped in hell, seems helpless to return to his familiar haunts. A powerful drug has kept kids there from dreaming, which means he cannot get into their minds. They do not seem to know his name either.  
How can he enter kids' dreams - especially those of Kia (Kelly Rowland) - when they don't even know who he is?
An indignant Freddy dreams up a scheme: he orders the
Friday The 13th
killer, the hockey mask wearing Jason to rise from his grave and begin killing the teens on Elm Street. Wouldn't it be good, Freddy reasons, if at least the old timers start thinking that Freddy is actually back in business?
The new victims range from a buxom young woman to a couple about to have sex.
As the body count continues, Freddy slowly regains his old strength.  He is itching now to use his own razor-sharp finger knives, but Jason refuses to step down.
| | |
| --- | --- |
| | Recent Hollywood reviews: |
| | |
Meanwhile, a group of teens work hard to unravel the mystery. These include Lori (Monica Keena), her spirited friend Kia (Kelly Rowland of Destiny's Child) and Lori's boyfriend, Will (Jason Ritter), who has been battling his own nightmares before the killings began.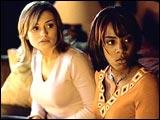 The film could have been benefited substantially by making its victims more interesting with use of atmospheric sequences and a raft of witty lines. It never runs short of blood and horror but where are the genuine shivers? And where are the genuine nightmares? 

CREDITS
Cast: Robert Englund, Ken Kirzunger, Monica Keena, Jason Ritter and Kelly Rowland.
Director: Ronny Wu
Writers: Damian Shannon, Mark Swift
Distributor: New Line Cinema